Mfantsipim wins maths and science quiz competition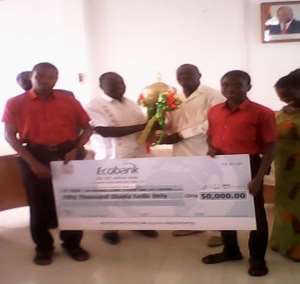 Education Mfantspim
Cape Coast, July 8, GNA - Out going Central Regional Minister, Mr. Ebenezer Kwadwo Teye Addo, on Monday congratulated Mfantsipim Senior High School for emerging the winners of the National Mathematics and Science Quiz Competition in Accra last Friday.
He said every nation's development depended on good knowledge in mathematics, science and technology especially in Developing countries like Ghana and hence much emphasis must always be laid on these subjects.      
Mr Addo said this when the Headmaster of the School, Mr. John Kwamena Ankomah Simpson, led a delegation to present the trophy to the Minister at the Residency.
Mr. Addo said students sometimes quivered at the mention of mathematics and science but with well-trained teachers these subjects could be made a fear-free.  
He expressed gratitude to the teachers for grooming the contestants to bring honour to the school and the region as well.
'Having got this far shows how dedicated you ware to your work and this great impact will forever be remembered' he said.
Mr Addo urged the school to work hard for the trophy to be retained for three consecutive years in order to keep it permanently.
The Headmaster   said   the last time the school won competition was 1999 and urged the teachers to always put up their best to make the School proud at all times and congratulated the contestants.
Mfantsipim beat Ghana Secondary Technical School and St. Francis Xavier Seminary in the final round.
GNA