Eight freed, five convicted in Sudan protest arson trial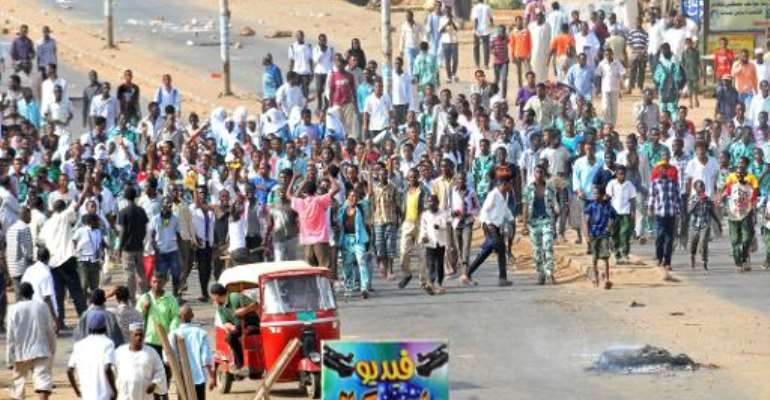 Khartoum (AFP) - A Sudanese judge on Tuesday threw out charges against eight men accused of arson and looting during demonstrations last September, but five others were convicted.
Thousands of people took to the streets with calls for the downfall of President Omar al-Bashir's regime after he slashed petrol subsidies, forcing up pump prices by more than 60 percent.
It was the worst urban unrest of his 25-year rule.
Thirteen defendants were on trial for the burning and looting of a police station in North Khartoum, in one of the longest-running cases stemming from the demonstrations.
Judge Al-Gahir Majzoub found eight people not guilty but sentenced the others to the more than nine months they have already served in custody, and ordered their release, said an AFP reporter at the court.
Defence lawyer Saga Mohammed said the decision "reflects the transparency of the judiciary and its independence."
Security forces are believed to have killed more than 200 demonstrators during the protests, many with gunshots to the head and chest, according to Amnesty International.
Authorities gave a toll of less than half that and said they had to intervene when crowds turned violent, attacking petrol stations and police facilities.
The government initially said it had detained 700 "criminals" after the protests but authorities later said most had been released.
At trials late last year, judges threw out protest-related charges against more than 30 people.
Among the few convictions at that time, three people were jailed for between three and five years for attacking a commercial centre in the Khartoum area.
In the only case of its kind to reach court, a former Sudanese soldier was cleared of killing one victim, Sara Abdelbagi, during the demonstrations.
A judge dismissed the case in late May, citing a lack of evidence against the man who belonged to the military at the time of Abdelbagi's death.
In February, a United Nations expert said the numbers of dead and arrested remained unclear.
Mashood Adebayo Baderin, the United Nations independent expert on human rights in Sudan, called on the government to release the findings of its investigations.
Four months later in June, during his most recent mission to Sudan, Baderin said the government had now given him a report, which he needed time to study.