Nurses Warn Scrapping Trainee Allowances Will Spell Doom For Health Sector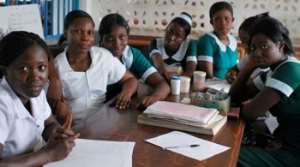 The Ghana Registered Nurses and Midwives Association says government's move to scrap allowance for trainees could have negative implication for healthcare delivery in the country.
The association believes such action will result in shortage of personnel as happened in the past when less people were motivated to work in the health sector.
Government has delayed allowances for close to three years, and is demanding justification from health authorities before a decision is taken on the matter.
It follows a similar decision by government earlier last year to discontinue allowances for teacher trainees.
Second Vice-President of the nurses and midwives association however argues the health sector is too sensitive for any mistake that would put lives in danger.
Kwame Adinkram explains why the trainee allowances should be maintained.
'Providing care for the sick even in the traditional way is not easy, so if you take that responsibility then you must be committed and commitment stems on the motivation you get.
The money for the students has been a great motivation and has also subsidized their fees. Now that the government wants to scrap it , only the rich can afford Nursing training and that would have effect on personnel adequacy,' he cried.
Mr. Adinkram however urges restraint from students whose allowances have delayed as negotiations continue between the leadership and government over the issue.
'I am advising students to be patient and wait on the Authorities. We are confident the outcome of the negotiation would be positive,' he implored.