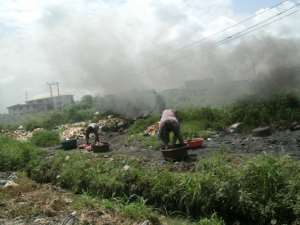 A walk through the railway that crossed the popular Ama-Ogbonna junction, otherwise called Over-rail, Aba in Abia State, as if you are heading to the Apostolic, Onitsha and Aguata Streets by Omuma Road or by Cemetery Road axis through the railway, leads to this place.
It is a place where a few perceived against-the-law meat sellers have taken as abattoir to prepare meat before zooming off to who knows where to sell them. As unkempt as the place is, huge refuse dumps of animal bones characterize this illegitimate abattoir at Over-rail, Aba.
On June 25 2014, when the writer investigated the place, the quantity of bones of animals that the unlawful animal butchers have killed compels them to package the mountainous bones in sack bags.
Many bones are heaped on the scraggy-scruffy un-weeded ground. Apart from the environmental pollution they cause with tyres they use as fuel in burning the killed animals, the site is unhygienic, smelling like a morgue that ran out of electricity supply for days.
The writer observed that this is an unethical practice of some butchers and abattoir-workers in Aba - especially cattles and goats - during the processing of raw-meat in preparation for sales and expenditure.
The hurry mood they are at this site in burning parts of meat and washing them in dirty plastic rubbers is a case of suspicion that they apparently have a glimpse of idea that what they are doing is illegal.
Although, this type of practice was what actually pulled the leadership of all the seven associations under the umbrella of the National Union of Butchers' Association, Ibadan, Oyo State chapter, in the recent past to swing into action, warning members to stop such unhealthy practices.
Apart from Oyo State, the previous General Manager of Abia State Environmental Protection Agency (ASEPA), Mr. Cosmos Ndukwe, reportedly in 2009 raised the alarm over health implications of consuming goats roasted with tyres.
Ostensibly, Ndukwe made the disclosure when the executive of Correspondents Chapel of Abia State Council of Nigeria Union of Journalists (NUJ) paid him a visit in his office in Umuahia, the Abia State capital.
Ndukwe, according to a source, lamented that the act of burning meat with tyre could cause cancer, kidney problems and madness, among others, he had informed that efforts were on to relocate slaughterers from Aba river. He, also, had promised that the government would stop them from using tyres to roast goats, because of its grave health hazards.
'Despite repeated warnings, the slaughterers still roast killed animals with imported scrapped tyres, thereby contaminating the meats with heavy metals such as lead, which could hardly be removed through boiling,' Ndukwe had said.
It was not certain during the time of filing this report if the illegal meat-workers at the Over-rail were part of those who were said were at the Aba river, but took to their heels to operate the illegal abattoir at Over-rail when Aba river could perhaps not contain them.
Always disturbed by the incessant thick dark-cloud that their nefarious activities cause to the environment where streets like the Tenant street, Clifford street, Apostolic street, Onitsha street and many others are, the residents who were interviewed by the writer bemoaned that Aba is one place that residents think it is their fundamental rights to behave or do things the way they like without considering the social implication of their action to the other person or the surroundings.
A man who gave his name as Dr. Ambrose Uko said that as a medical practitioner, his worry is the toxic that the flames deposit in not only the meat but also in the human body.

'Apart from me, you must have read that emissions from burning tyres contain significant amounts of the following known human carcinogens: benzene, 1,3-butadiene, and benz[a]pyrene. If tyres are burned, small particles containing zinc oxide produces inflammation in the lungs.
'Lung damage has been documented in animal studies at levels lower than OSHA and EPA standards. They also include metals such as arsenic, cadmium, nickel, zinc, mercury, chromium, and vanadium.
'Both criteria and HAP emissions from an open tyre fire can represent significant acute (short-term) and chronic (long-term) health hazards to firefighters and nearby residents.
'My dear, I know all of that, but what can man do since one has not built his own house; and even at that if such practice is not severely stopped by the government, residences by the river and around abattoirs where scrap tyres are used will continue to suffer,' he told the writer.
Another resident of the area who gave his name as Edmund Hart said, 'I have read about the menaces such action could cause to human health. I can remember going at that place they burn the animals to plead with them that they use another means in burning their animals instead of using tyre.
'All I got was, 'Go and mind your business and stop disturbing us.' They even told me if I was the only person living in the neighbourhood that I could not mind myself and stop disturbing them.
'Don't think that some of us in this neighbourhood are not aware about experts' recommendations that tyres are not designed to be burned as a fuel because they contain hazardous ingredients (the rubber in tyres contains 25% extender oils derived from benzene, 25% styrene, a derivative of benzene, and 25% 1,3 butadiene - both benzene and 1,3 butadiene are suspected human carcinogens). Tyre derived fuel (TDF) is also said contains remnants of wire that is difficult to totally remove,' Hart cried to the writer.
Other residents who spoke to the writer bared their fears about the operations of the butchers, because of the health hazards through the inhaling of carbon monoxide from the tyres they burn, pose. Many said that if you go around the environment, many people are sick. Dr. Uko further said that in the 'Alternative Medicine Encyclopedia: Lead Poisoning' it is clear that 'Lead can damage almost every system in the human body, and it can also cause high blood pressure (hypertension).
'It is particularly harmful to the developing brain of fetuses and young children. The higher the level of lead in a child's blood, and the longer this elevated level lasts, the greater the chance of ill effects.
'Over the long term, lead poisoning in a child can lead to learning disabilities, behaviour problems, and even mental retardation. At very high levels, lead poisoning can cause seizures, coma, and even death.'
When the writer contacted the prohibited abattoir-operators to know why they are at the place, one of them roared, 'Oga, can you not see that we are busy?' When persuaded to get their opinion, they became hostile and chased the writer away.
But when contacted to lend his voice on the matter, a man whom residents simply identified as 'Honourable' from the popular Ogbonna family of the area who are believed to be the natives of the area where the monstrous meat workers operate, simply said: 'I will draw the attention of the government to this even though that I fully hope that your report would hasten my aspiration before I do.'

(Reports and photo by Odimegwu Onwumere). Tel: +2348032552855