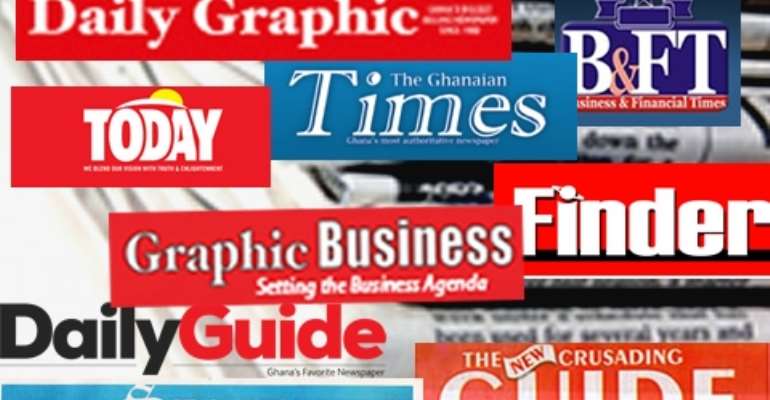 CONSUMERS TO PAY MORE FOR POWER, WATER FROM JULY 1
The Public Utilities Regulatory Commission (PURC) has announced an increase in electricity and water tariffs  for the third quarter, using the automatic adjustment formula.
GHANA, PORTUGAL IN CRUCIAL DECIDER TODAY
The Black Stars enter the Mane Garrincha National Stadium in Brasiilia this afternoon against the din of the agitation over their appearance fee which rocked the camp in Maceio last Tuesday.
FUEL SHORTAGE HITS ACCRA
Long queues  are forming at fuel filling stations in parts of Accra, triggered by motorists' fear that there could be fuel shortage in the country in the next few days.
GOVT TO REMOVE SUBSIDY ON FUEL
Government has limited options in finding a sustainable solution to the fuel and utilities crises beckoning and it appears it must bite the bullet.
NANA FIRES ABODAKPI OVER FALSE ALLEGATIONS
Nana Addo Dankwa Akufo-Addo, presidential aspirant of the New Patriotic Party (NPP), has rubbished recent statements made by Daniel Abodakpi, a jailed former Minister of Trade, that he (Abodakpi) was a victim of persecution over his 2007 imprisonment for willfully causing financial loss to the State.
APPOH FIGHTS NANA OYE
A Deputy Minister of Gender, Children and Social Protection, Rachel Appoh, appears to be going through hell in the hands of her immediate boss, Nana Oye Lithur.
MAULVI ADAM BURIED
A state funeral was yesterday held for the late Ameer and Missionary-in-charge of the Ahmadiyya Muslim Mission in Ghana, Maulvi Dr Wahab Adam, with politicians, Muslim clerics, traditional and Christian leaders and members of the Ahmadiyya sect paying their last respects to the revered former head of the Ahmadiyya Mission.
THE DOME STANDS IN LIMBO
It has been 15 long months since the Dome theatre in Accra, the biggest indoor theatre in the country, which is the first port of call for many big event organizers, was "temporarily shut down for renovation".
JUST FRIENDS FOR NOW
Feeding on personal comments that dancehall artistes MzVee and Stonebwoy have passed about each other in recent times and the remarkably good chemistry between them especially during their joint performance at this year's Ghana Music Awards, the entertainment media have been speculating that what the two share may be beyond "just friendship".
4X4, DAVIDO IN 'BABY DANCE'
One of the leading music groups in Ghana that is still going strong is 4X4 and although the group has been seemingly quiet for a while now, a lot has been happening and they are about breaking out into the open.