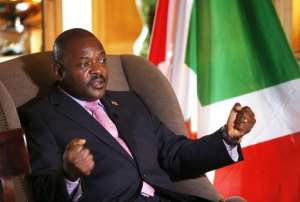 Burundian President Pierre Nkurunziza talks during an interview at the Westin hotel in Paris on June 4, 2014. By Francois Guillot (AFP/File)
Bujumbura (Burundi) (AFP) - Political parties in Burundi signed a code of conduct on Monday for free and peaceful elections next year, amid concerns over violence in a nation still recovering from decades of conflict.
Interior Minister Edouard Nduwimana; the leaders of 44 political parties, and key leaders including ex-rebel chiefs signed the code, promising to "denounce, condemn and punish all forms of violence, both verbal and physical."
Burundi, still healing from a 1993-2006 civil war between rival ethnic groups, is growing increasingly tense in the run-up to the polls in which President Pierre Nkurunziza is set to campaign for a third term in office despite a two-term constitutional limit.
The code demands signatories "contribute to the creation of an environment conducive to the holding of free, transparent, inclusive and peaceful" polls, while the government promised to "guarantee a safe environment that protects all political parties."
Foreign diplomats, United Nations officials and civil society organisations acted as witnesses to the deal.
"You are responsible for its implementation, but also accountable to the international community should you fail to respect it," warned the top UN official in the country Parfait Onyanga-Anyanga.
Burundi's last elections in 2010 were boycotted by most opposition parties, with the exception of Nkurunziza's ruling Hutu majority CNDD-FDD party, and the main Tutsi party, Uprona.
Uprona pulled out of the governing coalition earlier this year, plunging the country into a political crisis and raising fears of renewed ethnic tensions.
In April, an internal UN report reportedly sounded the alarm over allegations that members of the Imbonerakure, the youth wing of President Nkurunziza's party, were being armed. The government fiercely denied the allegations and ordered a top UN official out of the country.
On Saturday, some 40 Imbonerakure members clashed in street fights with members of the opposition Frodebu Nyakuri party in the country's eastern Giteranyi region.