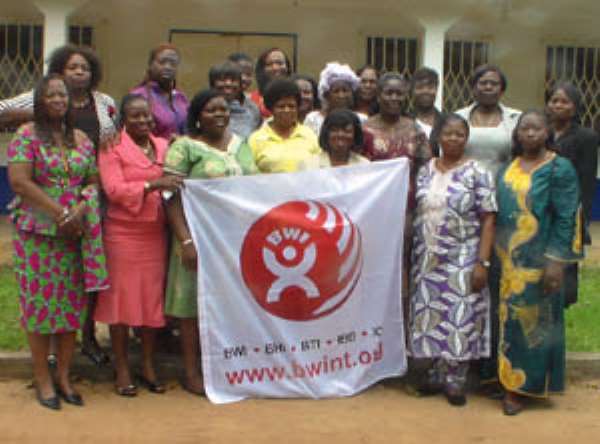 The women pose for the cameras
The women pose for the cameras
A three-day Information and Communication Technology (ICT) capacity building workshop for West African women leaders in the wood and construction industry commenced on Monday in Accra.
The workshop, which was organized by Building and Wood Workers International (BWI), a global body that brings together workers in the wood and construction sectors under a common umbrella, equipped 20 women mainly drawn from Cote d' Ivoire, Ghana, Nigeria, Burkina Faso, Mali and Togo, with the necessary ICT skills like e-mail networking and e-group, among others, to enable them discharge their duties effectively within their respective trade unions.
BWI West African Project Coordinator, Abdoul Karim Ouedraogo, in a special remark at the opening ceremony of the workshop,  said female workers within the wood and construction sectors across the world continue to face enormous challenges.
'Today, women workers in the BWI sectors throughout the world face enormous challenges. Women workers are often paid less than their male counterparts with very little social benefits. Women workers face continuous sexual harassment and employment discrimination. Women workers have limited access to skills training and job advancement. In times of economic crisis, women workers are the first to be laid-off,' Mr. Ouedraogo said.
He commented: 'Even within trade unions, women workers face difficulties. They are often under-represented in total membership of trade unions-about 20% of the BWI global trade union membership. They are also under-represented in decision making bodies of trade unions and few are in leadership positions.'
To bring an end to such discrimination against women and to ensure equality, he said BWI at its last congress in 2013 at Bangkok, Thailand, decided to allocate human and financial resources to activities designed for the development of women trade union leaders and workplace representatives.
According to him, in order to implement the resolution, BWI Africa and Middle East Region, with the support of Swedish Unions LO-TCO, decided to promote ICT training to increase the women's participation in e-group, e-mail networking, social media networking and PowerPoint presentations.
The Chairperson of BWI Africa and Middle East Regional Women Committee, Edna Opoku Boakye, in a short speech to officially open the workshop, the first in the series, said the workshop would enable participants to explore ways in which technologies would be used in different  fields and also highlight the current challenges facing  women.
She bemonaed sexual harassment and discrimination against women across the globe.
By Melvin Tarlue