RE: NPP core voters will abandon party should Alan win- NPP students warn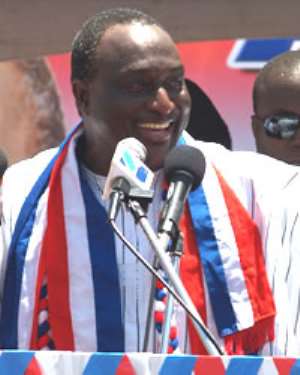 We, the coalition of tertiary students for Alan kyerematen ( COTSAK) have noticed with much surprise that, a statement dubbed ''NPP core voters will abandon party should Alan win- NPP students warn'' has been issued by a group identified as STUNNAD, and was published on the 23rd march 2014 on various media platforms including myjoyonline.com and peacefmonline.com. We wouldn't hesitate to state that, this is well calculated and intended to tarnish the image and hard earned reputation of Mr Alan Kwadwo kyerematen.
We are very much worried about such divisive comments made by STUNNAD in this statement especially at this time when we are all clamoring for party unity and must condemned by the rank and file of our party. It is also disrespectful and unfortunate for the group to use foul words to address a noble and a fine gentle man like Mr Alan Kwadwo Kyerematen.
We wouldn't like to waste much time repeating the false and diabolic informations spewed against Mr kyerematen in the said publication.
In response to the numerous false issues raised against the candidature of Mr Kyerematen, It is of public knowledge that Mr kyerematen bowed-out for Nana Addo in the run-off of the 2008 presidential primaries, he contributed financially and campaigned rigorously in the 2008 and 2012 general elections. Therefore the assertion attributed to Mr Agyarko quoting that ''Mr kyerematen didn't play any role in the 2012'' is refuted.
We find it very difficult understand their view that ''NPP core voters will abandon the party should Alan wins''. This point is very hollow and it wasn't well thought of, It is rather the opposite.it will be very difficult for Ghanaians to repose their trust and confidence in us should Nana Addo win primaries and again lost 2016 general elections for the third time. We shouldn't also forget that those we call our core supporters are converts from Ndc and other smaller parties during our era in governance.
Therefore our major opponents have upper hand over us when it comes to core supporters. Our party will be defunct if we lose 2016 elections with Nana Addo, ghanaians will never forgive us for that. Presenting Nana Addo for the third time is a dangerous venture for our party's survival and political relevance.
Again, it is also very childish for the group to insinuate that Mr kyerematen has ties with some Ndc gurus and therefore plan to frustrate and kick Nana out from the Race. This is laughable and must be treated with contempt. There is an Akan Adage which goes like '' if two sides does not meet, it doesn't mean an outsider should take away''.
We believe this is an internal contest which has nothing to do with our major political rivalry or opponent. This confirms the position that NANA ADDO cannot give NPP power, because If our political opponent can succeed in eliminating a potential president who is much touted as the most popular politician of our time from primaries, what is NANA ADDO'S business contesting for the third time.
It is also on records that NANA ADDO has contested and lost two consecutive times to the NDc. So what is wrong with it to state this fact?. As a serious party, it is time we make power our priority than producing a celebrated presidential candidate.
It is also true that there is apathy among our members at the grass root. Our party's structures is shut down, the commitment and will of our party members to execute party work is no more. All these are hard facts on the ground that anybody in our party must feel free to say. We want power but not pride, we can get pride after power.
We are therefore calling on STUNNAD to shut up and deal with how to market their candidate to win power for NPP should the opportunity come, and stop attacking and chastising Mr kyerematen, he only said the hard truth known by all but difficult to point out.
LONG LIVE GHANA!
LONG LIVE NPP!!
F. K KUMI- UDS Wa Campus
National president (COTSAK)
0576654065
ABDALLA ADAM-
National cordinator