TOR operations not affected by fire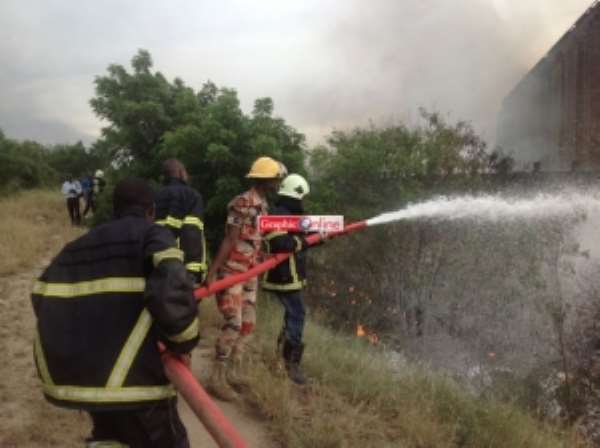 The management of Tema Oil Refinery (TOR) has given the assurance that its operations will not be hampered by Tuesday's fire outbreak on some pipelines linking the facility to the Tema Harbour. 
According to the Director of Communications of TOR, Ms Aba Lokko the refinery was safe and assured that product supply will not be affected. 
She said investigations have commenced to determine what occurred and what next steps to take to avert future occurrence. 
Meanwhile, the man who was killed by the fire has been identified as Ebenezer Kofi Mensah, 38.
He was married with a 4-month-old baby and was said to have died in the blaze in an attempt to siphon fuel from the leaking pipes. 
Speaking to Radio Ghana , Ms Lokko said the deceased was not a staff of TOR. 
She commended the Ghana National Fire Service, the Ghana Police Service and all emergency services for the swift response to the disaster. 
Fire Tuesday gutted fuel pipelines laid behind the Cocoa Processing Company factory. 
The incident, which occurred between the wall separating the former Akasanoma Factory and the Cocoa Processing Factory, took place at about 3:30 p.m.
The Fire Officer for the Tema Metropolitan Area, Mr William Abeka Blankson, in an interview with the Daily Graphic , said initial information picked indicated that the explosion was sparked by a leakage from the gas pipeline, and that in the course of the inferno, a high tension electric cable fell on the deceased.
He said the initial response saw the deployment of two fire engines from the metropolis; one tender each from the Ashaiman, Tema Industrial Area and the Ghana Ports and Harbours Authority were dispatched to the scene, while a number of security personnel were posted to the scene to maintain law and order.
Officials said the leakage started about 10 in the morning and people rushed to the area, taking advantage to scoop fuel until the disaster struck.