Water Aid Secures WASH Grant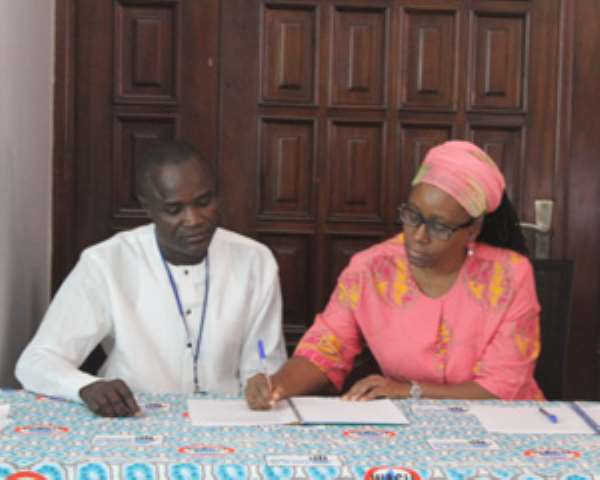 By Jamila Akweley Okertchiri
Dr Afia S. Zakiya signing the European Commission contract for Water and Sanitation Advocacy with Mr Farouk Braimah, the board chairman of CONIWAS.
Water Aid, a non-governmental organisation with the vision of helping people access potable drinking water, hygiene and good sanitation, has secured a three year grant of €624,952 from the European Commission Non-State Actors (EC-NSA).
The amount is to be used to support about 20,000 people in 30 communities, 10 civil society organisations and three district assemblies to improve Water, Sanitation and Hygiene (WASH) services in the country.
Beginning from 2014 to 2017, the project, 'Empowering citizens and civil society organisation to improve the delivery, equity and sustainability of water, sanitation and hygiene services will be implemented by Coalition of NGO in Water and Sanitation (CONIWAS) and Integrated Action for Community Development (INTAGRAD) in the Gushegu, Bong and Accra Metropolis.'
The grant is aimed at strengthening civil society capacity as a pre-requisite to promoting a more equitable society and reducing poverty.
It is also to increase the capacity of local communities and civil society organisations to effectively demand and monitor the provision of equitable WASH services through evidence-based dialogue with local duty-bearers.
Signing the contract with the civil society organisations, Dr Afia S. Zakiya, Water Aid Country representative, said the grant would help improve responsiveness of government, private sector and culturally appropriate and replicable models for rural and peri-urban WASH service delivery.
She said key activities that would be undertaken by the project include stakeholder mapping and baseline survey, study on equitable delivery of WASH services, training of CSOs on management, equity, negotiation and sustainability issues and 'Citizen Action Accountability Day'.
Other activities are to facilitate community engagements with duty-bearers to secure improvements in sanitation, training DWSTs on WASH data planning and management, facilitate district level WASH co-ordinating platforms, media advocacy, policy dialogues on sanitation, water and hygiene and support district WASH plan development and implementation.
By Jamila Akweley Okertchiri