Vodafone Ghana Donates Age-Friendly Phones To Help Age Ghana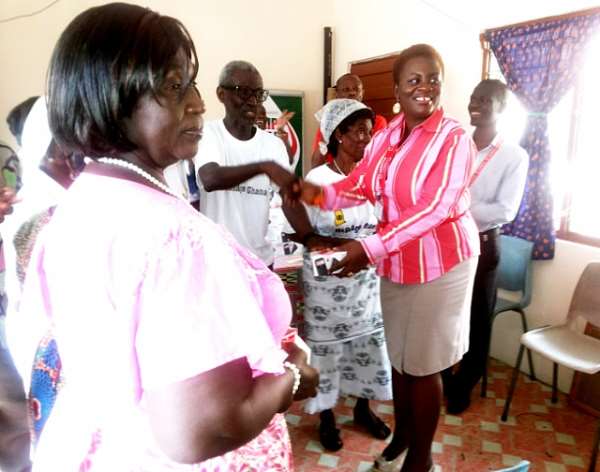 Accra 23rd April, 2014 - Vodafone Ghana, the telecommunication giant has donated 50 age-friendly phones to the Help Age Ghana, a charitable organization that caters for the needs of the elderly. The new and affordable Alcatel Touch 282, has special features that enhances the mobile experience of the elderly.
The phone has big labeled keys which allow the aged to see clearly as well as an SOS emergency key and inbuilt FM radio. The SOS key enables users to make customized calls and send txt messages to variety of contacts. The phone has an enhanced hearing aid feature which makes it easy for the hearing impaired. It comes with handy charging dock which can hold the handset at home.
"Our commitment to diversity and inclusion at Vodafone Ghana ensures that we serve all our customers regardless of their age and gender. We specifically took delivery of these phones because we want to satisfy the needs of particularly the elderly who want a very simple mobile experience" said the Diversity and Inclusion lead at Vodafone Ghana, Iris Owusu-Manu.
Customers can purchase this phone at any Vodafone shop, distributor shop and the Vodafone mobile sales team at GHs 99.
For further information, please contact the Vodafone Ghana Press Information Line on 020 340 1313. You can also connect with Vodafone Ghana at: www.facebook.com/vodafoneghana or through our BB pin 23C0D157.
About Vodafone
Vodafone Ghana is the most awarded telecoms company in Ghana, winning amongst others, Best Telecoms Brand for three successive years and CIMG Marketing Oriented Company of the Year. We are a total communications solutions provider - mobile, fixed lines, internet, voice and data and provide unmatched service for fixed line and internet services. We are the leader and the first choice for all Ghanaians.
We are an operating company of Vodafone Group Plc, the most valuable telecoms brand in the world and one of the most valuable global brands with significant presence in Europe, the Middle East, Africa, Asia Pacific and the United States.