Report: Ghana's rich getting richer; poor getting poorer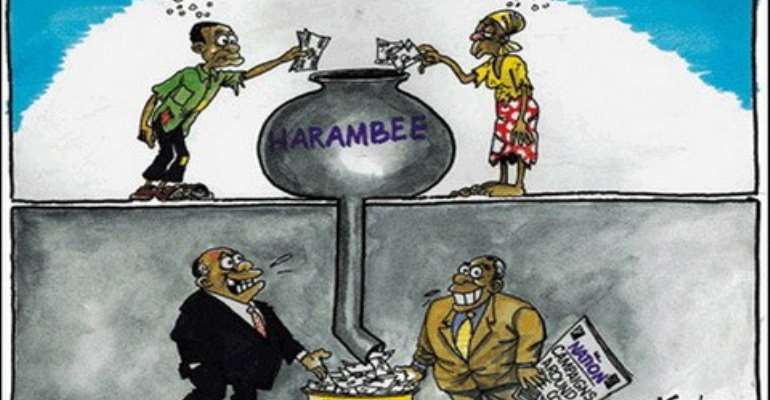 The rich in Ghana are getting richer and the poor, poorer. That is the findings of a report authored by the Tax Justice Network Africa and Christian Aid, an NGO.
The report titled "Rising inequalities and the essential role of fair taxation" also indicates how Ghana's tax regime has contributed to the widening gap between the rich and the poor.
The Programmes Manager of Christian Aid, Ernest Okyere, who presented the findings of the report at a launching ceremony, Thursday, said between 1999 and 2006, the number of rural poor in Ghana increased from 2.2 million to 2.6 million people despite a seeming decline in poverty.
"The report also highlights the fact that the top ten per cent of the rich are getting richer while the bottom 40 per cent see their income declining.
"That raises a serious question about the poverty levels, which we say are reducing. We see the poverty level declining but the inequality in terms of the rich and the poor, the rural and the urban situation is still worsening," he indicated, adding that the three Northern regions remains the poorest regions in Ghana.
Gyekye Tanoh of Third World Africa Network, who spoke at the report launch said the policy to use the rich as a medium to reduce poverty can only be fraudulent.
In an interview with Joy News' Dzifa Bampoh, Mr Tanoh cited examples of how monies are given to investors, majority of whom are foreign in the hope that they will create more jobs for the poor in society.
Such a policy, Mr. Tanoh indicated, had failed because the investment in most cases does not trickle down to the poor as originally intended.
He also blamed the unfair taxing regime in the country for the increasing disparity between the rich and the poor.
He explained for instance that a head porter, who receives peanuts carrying loads heavier than her weight, is most over burdened with tax from AMA officials, while Estate developers or other business men, who earn far more, pay taxes that are not commensurate with the revenues they generate.
Gyekye Tanoh called for a more comprehensive but targeted social programmes that will get the poor out of their debacle.
 He also proposed a restructuring of Ghana's tax regimes starting with the review  of the tax rebate especially to foreign owned companies.
Mr. Tanoh said the country must begin to offer a transparent and participatory tax regimes and people will be ready to pay more tax.