Civilians pay heavy price in worsening S.Sudan war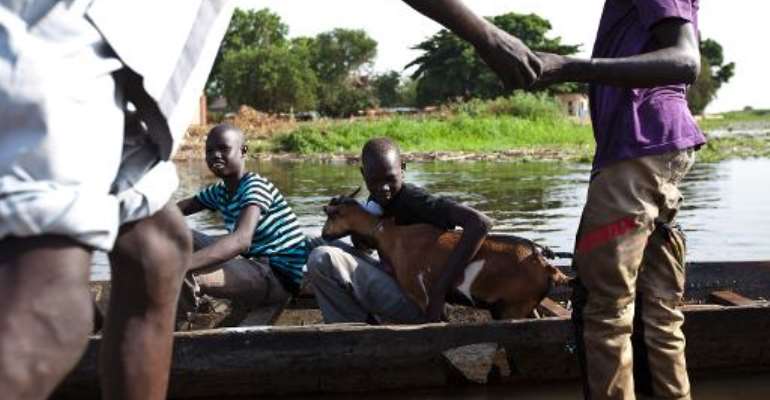 Nasir (South Sudan) (AFP) - Gebriel Mabil was sitting at home in Bentiu, South Sudan, when the war found him, a lone bullet tearing through the wall striking his seven-year-old son in the jaw.
His son Steven Kueth now sits in a bed in a Nasir hospital, covered in bandages and clinging to life with the help of breathing and feeding tubes.
"I worry about my son because I don't know if he will survive in his state," said Mabil, sitting in the hospital in Upper Nile State where his son was transferred after he was shot.
Doctors don't know how or if his jaw can ever be repaired.
Kueth is among thousands of civilians that have become embroiled in a four month-old conflict that was not of their own making, sparked by a political feud between President Salva Kiir and his former deputy, Riek Machar.
The fight has spread from the capital Juba to South Sudan's oil-rich territories, displacing over one million people since it kicked off on December 15. The death toll is thought to be in the thousands, perhaps the tens of thousands, although nobody knows for certain.
It has also taken on a vicious ethnic dimension, with Dinka people loyal to Kiir against civilian militias and defected government troops loosely allied to Machar, who is Nuer.
Like in Nasir, hospitals across the country are crowded with victims of the war, both willing and unwilling participants of the fighting.
"We're receiving a lot more patients than we're used to, especially an influx of wounded patients, gunshot wounds specifically," said Jonathan T. Simms, a project coordinator for Doctors Without Borders (MSF) in Nasir.
Like Kueth, Rebecca Nyaluak had no intention of becoming tangled in this war, but she was targeted in her home and shot by soldiers in the thigh.
"I said to them 'why are you coming here, why are you fighting me?' and then they shot me in the leg," said Nyaluak, speaking from her hospital bed with her leg in a cast.
- No safety, even for civilians -
Her husband at first admitted her to hospital in their home town of Malakal, a key oil hub and also one of the most bitterly fought-over towns in South Sudan. With hospitals also being targeted as towns changed hands, he then shifted her to Nasir, carrying her for days as war raged around him, surviving on meagre scraps of food.
"We were running away, because there is no safety for women, no safety for children, no safety for men, even if you are a civilian there is no safety for you," her husband James Pamgach said from the hot hospital ward.
The United Nations has warned of a massive humanitarian crisis in the region, with UN Secretary General Ban Ki-moon saying that one million people are at risk of famine in the country -- the world's youngest nation which only won independence from Khartoum in 2011.
Desperate for food and safety, thousands continue to flee their homes, with up to 1,000 people streaming into neighbouring Ethiopia daily.
But despite the worsening situation, even some injured are committed to pressing ahead with the fight.
Simon Bilay was shot in the foot when fighting erupted in his hometown of Adong in Upper Nile State. Now he says he is waiting to recover to take up arms against government troops on the frontline, regardless of what dangers await him.
"I want to join the war because they killed fathers, they killed children, they killed everybody they wanted to kill. I want to protect women and children," said Bilay, confined to a hospital bed with his leg in a cast.
"I will go when my foot is healed," he vowed.
MSF is concerned about an escalation of violence, with resources already stretched to serve current victims of the conflict.
"Right now, we're doing our best to pre-position as much as possible, but definitely it is putting a strain on resources," Simms said.