New NPP Leaders Must Ensure Akufo-Addo Victory 2016--Students Network For Nana Addo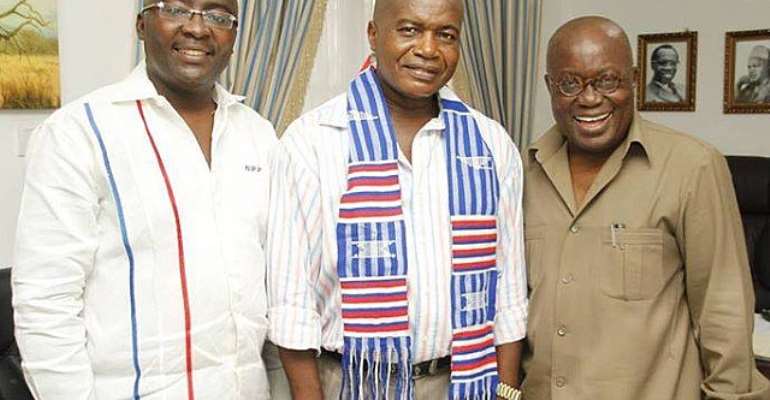 After the fierce contest for the various executive positions in the party, the delegates have decided on you to manage the party for the next four years. We wish to congratulate the newly elected executives and wish them well. We are confident and hope to see nothing short of good plans that will win the party power in 2016.
We, however, want to remind the executive members that they were elected based on their campaign promises, which must be fulfilled in any legally possible means. The central theme of their campaign was hinged on "winning power in 2016". We again like to remind them of their direct and indirect pledge when they used Nana Addo's name to canvass for votes by assuring the delegates that they will help Nana Addo to win 2016.
It is revealing to note that none of them campaigned without trying to associate themselves with Nana Akufo-Addo. There were several text messages and tapes that went to delegates with Nana Addo's name attached. (eg " FROM NANA ADDO: My dear Delegate, I have looked through the National Organizer Aspirants, per my assessment JOHN BOADU Stands tall. Please vote for him if you believe in me! This and many of such messages went out to lure delegates to vote for them and indeed it had influence on the voters and we are expecting them to be truthful and honest to their words.
We have a firm believe that they will work to sustain people's hope and confidence in them and Nana Addo. They must work to unite us to rally behind them and Nana Addo for victory in 2016. They must bring all hands on board and bring people with experience to help to ensure victory.
With a united voice, the prayer of every well-meaning Ghanaian is that God should give the NPP wisdom to see how He has rested the future of Ghana in the bosom of Nana Akfuo-Addo as the only one who can unseat this clueless NDC government and redeem the nation from the economic doldrums.
We members of STUNNAD therefore give unflinching backing to leaders of the NPP clamuoring for a marketable person like Nana Akufo-Addo to be returned unopposed.
We sincerely wish to advise Mr. Alan Kyeremanteng not to contest Nana Addo in order not to truncate would be a rather brilliant political career in future. He must rather work and help Nana Addo to win the 2016 elections to pave way for him in 2020.
He must not be deceived to believe that Mr. Paul Afoko and Kwabena Agyapong's victory was for him to beat Nana Addo in primaries. We voted for them as individuals on their own merits and not because they will work for Alan but because they are capable to ensure Nana's victory in 2016.
Once again, we say congratulations to Mr Paul Afoko and his able team for winning the contest for the party.
Long live NPP, long live Ghana.
Signed:
CHRIS ARTHUR, NATIONAL PRESIDENT (also TESCON- KNUST PRESIDENT)(05411 73031, 026244 5566)
EMMANUEL FRIMPONG (TESCON UCC PRESIDENT)
(0247 206432)
MARY NSIAH, COMMUNICATION MEMBER.
DORCAS OSIE-BOATENG (WOMEN'S ORGANIZER)