White, But Darker—The Tale Of Crucifying SADA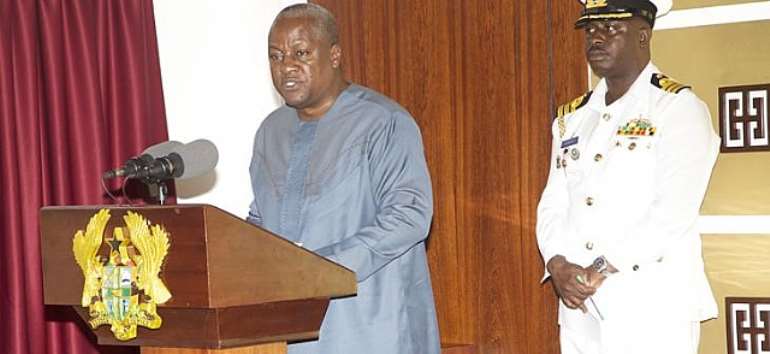 Many Ghanaians celebrate Dr. Kwame Nkrumah for his visionary leadership – even in his death. Aside the many legacies his leadership has bequeathed us in terms of infrastructure and the now defunct (ABANDONED!) national development plan, his approach to governance was very comprehensive and reflected a genuine quest to address our needs then and even now.
He sought to emancipate us from our excessive dependence on the west by first achieving with us, and for us the freedom we needed as a sovereign African state that was capable of determining her own affairs, and providing to the needs and aspirations of her people. While this was undoubtedly a fantastic mission, it still was not immune from the hate within and without. What many people regarded as a contest for ethnic supremacy eventually succeeded in overthrowing a leader whose vision transcended the mediocrity of ethnicity.
Osagyefor Dr. Kwame Nkrumah envisaged the economic difficulty that we are confronted with today hence was so passionate about assisting other African countries to liberate themselves off colonial rule, and to synergize their respective resources in order to create vibrant economies that would make them independent of external aid, and a viable competition at the global stage.
This vision of having a united Africa trading with the rest of the world was killed here at home before it could even begin to crawl. Arguably, this crab syndrome was fueled by greed and an obsession for ethnic supremacy. Some Ghanaians then would rather have us still dependent on the colonial regime than have someone outside their egocentric ethnic group to rule us.
This was how the story started; the rest may be deemed as history, but its consequence on our economy, in our social life and in the perception we hold about each other in relation to ethnicity still makes it very relevant today.
I have followed closely recent revelations by one young journalist from the Upper East region of Ghana concerning SADA and the euphoria with which a leading member of one of the arm-chair think tanks in Ghana – Kofi Bentil hits hard on social media with all kinds of mediocre ethnic blame game. While the story, dubbed – Sad SADA Story may have succeeded in creating the sensation its authors, and their sponsors anticipated, it leaves a lot to be desired for a media organization like the Multi-media group which claims to have an interest in ethical journalism and the truth. On April 7, 2014, at about 5:31pm, Joy FM captioned the Headline of Manasseh's story about SADA on their Top Story segment with the following misleading caption "Seventy Four million Ghana cedi of tax payers' money cannot be accounted for".
Surprisingly, in the details of that same news item, it was stated that the said amount is rather invested in a call account with one of the leading banks in Ghana – Stanbic Bank (Clearly, the whereabouts of the GHC74,000,000 was known and could not have been unaccounted for). For a moment, I almost equated investment to the phrase "cannot be accounted for".
The whole episode was purely a clear case of resorting to a sensationalist and alarmist approach to tell a story which the journalist and his editor did not even take the pain to verify and authenticate. Subsequently, Stanbic Bank was referred to as Alhassan Andani's bank in many of what seems to be character assassination sessions. Strangely, the issue of having SADA's money invested in Stanbic Bank was seen as one of the more heinous crimes ever to have been committed in the history of investments in Ghana. Perhaps by selective amnesia, Manasseh and his Multi-media team forgot that SSNIT; a state owned custodian of the pensions of every Ghanaian worker has ever invested in Multi-media, the parent company of Joy FM.
Also, the investigative journalist and his outfit did not know that over 90% of NHIS money was invested with Calbank at a time Frank Adu doubled as the Chairman of the board of NHIS and Managing Director of Calbank. Furthermore, my ambitious investigative journalist had it wrong again when he and his outfit narrowed their focused for the purposes of indicting only the board chairman of SADA even though in their own news item they stated that the out gone Executive Director of SADA signed for the disbursements of funds beyond his approval quota without recourse to the board. Interestingly too, the journalist forgot that Indeed, the Chairman of the SADA board does not owe Joy FM any reports regarding what SADA does.
SADA owes the public accounts committee of parliament those reports, and this committee is a constitutionally mandated body that represents the interest of the public, including that of Multi-media and the award winning journalist – Manasseh Azuri. I believe SADA has fulfilled its obligation of reporting to the PAC of parliament. If not for the intention to catch more audients by putting on the spot the name of a giant in the Ghanaian banking industry, the focus on Alhassan Andani was not only myopic, but very needless – I am afraid.
Arguably, SADA's apparent challenges today are as a result of the political expediency with which it was formed. In the absence of a national development policy, political parties fashion out their manifestoes to reflect all kinds of ambitious promises without recourse to in-depth strategic analysis. SADA by any stretch of reasoning is a great concept, but its rush to action is causing more harm than good. One would expect an ambitious intervention like SADA to put in place structures first; ahead of any operations.
Ideally, SADA should engage the expertise of academia and many civil society organizations particularly those that have been in the zone for far too many years (CARE International, Plan Ghana, World Vision, etc.). In the contrary, SADA started operations before seeking to build its management structures. These blatant lapses created a window of opportunity for all kinds of unscrupulous business people to milk the resources of this fine concept.
While its board can boast of some of the finest development experts we have, the management team was left too loose and unguarded. The status quo may appear very gloomy, but the revival of SADA would not come from media vilification. The solution to addressing challenges of a huge authority like SADA is not only in the hands of the media. Political expediency must be eschewed from the operations of SADA. Also, the management team should recruit personnel whose services would be enough to not require too much of external consultants expertise. SADA is a 30 year project.
Let us not cause its neonatal death. It is our responsibility as youth from the SADA zone to have serious interest in who does what at SADA, and we should do this being proactive that playing these reactionary roles. It is only when we hold the management accountable and try to see the cup as half full instead of half empty that we would be saving SADA from the alleged "sad stories" Manasseh has unraveled. I personally believe in the concept. With the right caliber of personnel, SADA cannot be a failure. At its worst, it would be successful.
At its best, it would help bridge the development gap between the north and south of Ghana, and as well create the needed environment to make Ghana more of an economy that export more of value added products than we currently do.
It is not uncommon that many people try as hard as they can to vilify credible people. Patrice Lumumba was a great revolutionary but he was destroyed by his own people. So was Che Guavera, Jomo Kenyata, Kwame Nkrumah and Malcolm X to mention but a few. The case of trying to concentrate the blame for systemic dysfunction on an individual is not only unfair, but begs the question of the motives behind the whole sensation with which Manasseh and his employers write and report the SADA story. Is it a case of giving Alhassan Andani a bad name in order to hang him?
I doubt if that would wash. Alhassan Andani is one accomplished banker of enviable reputation both at home and abroad. He has held on merit very strategic positions with many great financial institutions (including, SSB - now SG-SSB, Standard Charted Bank, Barclays Bank Africa, Barclays Bank Ghana, and Stanbic Bank) over a period of more than 20 years. In fact, the whole nation is witness to how he took over the management of Stanbic Bank and how he transformed it to its current status.
Needless to say, Stanbic Bank has never been out of the top five performing banks ever since Alhassan Andani assumed the role of its Managing Director; even in this era of strict competition in the banking industry. It was not out of nothing that in the wisdom of the late president J.E.A Mills that Alhassan Andani was asked to serve his dear country in the capacity of chairman to the SADA board.
Manasseh, we all are members of the same "flawed species". The human lust for power and esteem, coupled with its vulnerability to self-deception and self-righteousness, makes that an invitation to potential calamity, all the worse when the power is directed at a goal as suicidal as eradicating an interest that seeks to uplift one's own people. I think it is essential that Manasseh Azuri recognizes the fact that his crusade may as well be the crucifixion of the dreams of many marginalized and vulnerable children and women from that part of the country that he has openly shown his undoubted affection for and has indeed pledged to protect, promote and project.
In fact, without a specification of a creature's goal, the very idea of intelligence is meaningless. A toadstool could be given a genius award for accomplishing with the pinpoint precision and unerring reliability, the feat of sitting exactly where it is sitting. Nothing would prevent us from agreeing with the cognitive scientist Zenon Pylyshyn that rocks are smarter than cats because rocks have the sense to go away when you kick them. In effect, I wish brother Manasseh Azure the ability to be able to read between the lines, and to know what tune to dance to regardless of whom it is that holds the strings.
To one Mr. Kofi Bentil of the IMANI Ghana fame, I read with shock and utter disappointment your posts in social media regarding your limping logic that if SADA fails in the hands of northerners you would be absolved of your guilt. What a brain to have in order to run a think tank - wow. Now listen, by any historical measure, Northern Ghana has been and still is an integral part of Ghana. People from northern Ghana pay taxes, they vote, and of course reserve the right to demand from any government their fair share of the national cake. Northern Ghana is home to some of Ghana's finest historical sites, and reflects some of our splendid socio-cultural diversity that we pride ourselves in as a nation.
The northern part of Ghana has vast arable land, a primary means of production. The slave market at Salaga, the Laribanga mosque, the Mole game reserve, the Paga crocodile pond, and several other ornaments of Ghana's rich history and tourism potential. Countless number of Ghanaians live and work far away from their regions of origin, and several others criss-cross the length and breadth of the country in pursuit of education and or commerce. We do all these in the spirit of our collective decision to uphold and defend the good name of Ghana.
In our quest to make our dear nation great and strong, we downplay our divisions and elevate our unity in purpose. We resisted attempts to make this nation a British territory, and subsequently fought the idea of federal state, and we have over time built and have almost consolidated our democratic credentials. Unto each of the citizens of Ghana the nation owes the responsibility to provide equal opportunity for us to make a living, and from it pay our taxes.
It is not by divine design that northern Ghana lags behind in terms of infrastructure, and economic development. It is the creation of earlier duty bearers (be they the colonial regimes or the mainly southern elites who have dominated our governance since independence) who held at the back of their minds stereotypic views and malicious intentions against people of northern descent. History has it that unlike people in southern Ghana, people from northern Ghana were denied access to education for about a century. This resulted in what I refer to as the class system (not as clear as in the case of India though, but as prominent enough to make the northerner look and feel like an alien in his own country). Until recent times, the average northerner could only aspire to find menial jobs such as laborers in the mines, at the cocoa farms and probably unskilled night security guards (watchmen) just to mention a few. The plight of the northern woman is still a major challenge till date with a chunk of the female youth migrating to the south to become head porters (kayayei). The story isn't different for the average northern male youth.
In view of this apparent developmental gap between Northern and Southern Ghana, The Savannah Accelerated Development Authority (SADA) concept was hatched in an attempt to provide the needed support to establish a vibrant economic hub in the Savannah zone. The true picture is deeper than the shallow attempts on camera by successive governments to create an impression that bridging the north-south development gap is a major national priority.
By Mr. Bentil's ethnocentric post on Facebook, I am tempted to validate my long suspicion that indeed, Ghana is a nation of two distinctive groups of people – the northerner and the southerner, and the southerner may just be the one to blame for the current economic situation we find ourselves as a country since they have been running almost every government ministry, department or agency for major part of our post independent period – that is if Kofi Bentil's "think tank brain" is any respected intellectual source one can infer from.
Abdallah Malcolm
Email: [email protected]