22 years jail sentence on Asem Darkey: family to consider an appeal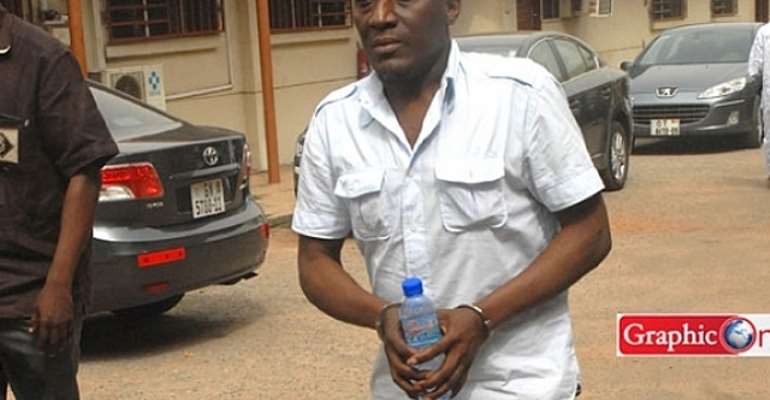 Family of businessman, Asem Darkey aka 'Limping Man', is consider filing an appeal against the 22-year jail term handed down by an Accra Fast Track Court (FTC) on their relation for his role in the missing 77 parcels of cocaine on board the MV Benjamin vessel that rocked the country.
Speaking to Joy News after sentence was delivered by the court on Thursday, Brother of Asem Darkey, John Hammond, said the family is disappointed with the ruling of the court.
Mr. Hammond indicated that the family may consider an appeal against the court's decision as an option after analysing the issues with their lawyers since they believe Asem Darkey is innocent of the charges for which he was convicted.
Mr. Darkey is expected to begin his jail term at the Nsawam prisons today, April 10, 2014, after he was found guilty on four charges including conspiracy to import narcotics and possession of narcotics.
Joy News' Kwakye Afreh-Nuamah reports that there was a loud silence as Justice Mustapha Habib delivered his twenty minutes judgment.
In a commanding voice, the trial judge took his time to explain reasons for each decision the court took.
In the course of the delivering the judgment, Mr. Asem Darkey looked pensive and occasionally, looked up the ceiling, as if he was saying his last prayers.
His family members present in court were not spared the anxiety.
Sometime in April 2006, a shipping vessel named MV Benjamin was spotted on the high seas carrying about 77 parcels of cocaine heading to Ghana.
The vessel docked at Tema and discharged the cocaine, which was taken away in a waiting vehicle.
Investigations into the matter led to the arrest of some suspects including Mr. Asem Darkeh, who was named as the importer and owner of the drug.
Trial Judge, Justice Mustapha Habib cited the increase in narcotics trade in the country as a reason for his sentence, which is expected to serve as a deterrent to other people.