Makola market fire put out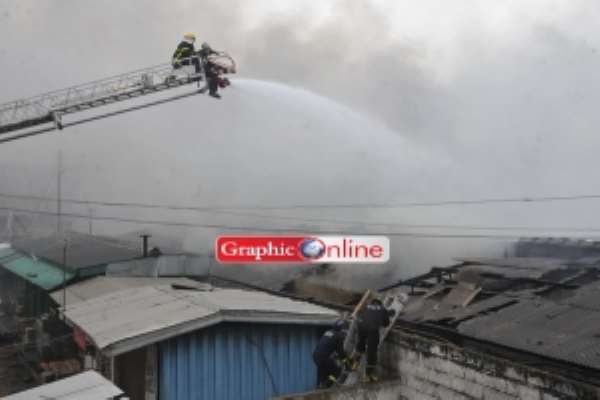 Personnel of the Ghana National Fire Service (GNFS) have been able to quell the fire that destroyed nearly half of the Makola No.2 market in Accra early Friday morning.
GNFS public relations officer, Prince Billy Anaglate says it took personnel about an hour and half to fight the fire that destroyed several stalls and goods.
Eight firefighting engines, two water tankers and two turntable ladders were engaged in the exercise, he told Radio Gold in Accra, saying the service received distress calls to attend to the market fire http://graphic.com.gh/news/general-news/20315-fire-guts-makola-no-2-mall.html at about 5:15am with its Makola fire station responding in less than two minutes.
He said by the time firemen arrived at the market, the fire had virtually destroyed half of the market, and given the intensity of the fire, reinforcements had to be summoned from all stations.
"Just imagine, with the proximity of the Makola Fire Station and where the fire is, you realize that the fire station was not actually informed early when people detected it and looking at the type of materials that they have used in constructing the structures, that have also aided the fire to spread with that intensity and the level before the fire service got to the scene."
He said the strong winds in the morning also aided the fire. It is not immediately known what may have caused the fire. Accra Friday night recorded some amount of rain accompanied by strong winds.
{gallery}makola2fire{/gallery}