Reaping The Benefits Of Higher Education In Ghana; What Needs To Be Done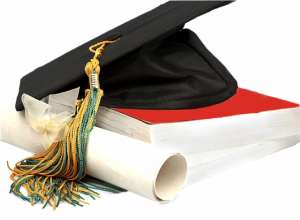 Quality education in Ghana has been an issue of concern in recent years. An educational system which was once envied by countries in Africa and beyond is gradually losing its enviable position. Ghana's education system from primary through to tertiary level in recent times have taken center stage of discussion on our media platforms.
Government can't alone be blamed for these happenings in our education system but missions, parents and other institutions should take their share of the blame. The Christian council of Ghana recently asked government to return its schools to them for effective management and administration but let me ask; is it going to resolve the numerous anomalies in our education system? For the purpose of my discussion, let me focus on tertiary education since it is at the apex of our educational structure.
According to the National Council for Tertiary Education, in 2012/2013 academic year, 109,298 students were admitted into public universities, 47,294 students gained admission into polytechnics, 26,159 were admitted into private universities, 27,580 admitted into colleges of education and 5,048 admitted into other public specialized institutions such as GIMPA, GIJ, GIL, KAIPTC, NAFTI, RMU etc. Again, according to www.master.com, gross enrollment ratio is the sum of all tertiary level students enrolled at the start of the school year, expressed as a percentage of the mid-year population in the five (5) year age group after the official secondary school age. In that report, Ghana is ranked 123rd out of 150 countries ranked.
The facts are clear that, enrollment in tertiary education in both public and private institutions have improved over the years. But our educational system has not been structured to solve problems in our societies because the modules used have become obsolete. Are we putting square pegs in round holes?
In this 21st century, the focus of tertiary education has changed and Ghana must adjust to meet international standards in higher education. Ghana's education system has been reduced to 'chew, pour, pass and forget' style where students perform very well in exams but can't solve problems in our society. The world is looking for problem solvers and how do we develop our students to solve problems. Over the years, there have been a lot of talk and little action on vocational and technical education which has contributed partly to youth unemployment in our country. We currently live in a country where the course you study at the university or polytechnic no longer matters.
For instance, first degree graduates in agriculture are now bankers, higher national diploma certificate holders in engineering are in insurance industry etc. I'm not saying is wrong but we shouldn't lose focus on why we train students in particular fields. Indeed some of the courses we offer in our tertiary institutions need total overhaul and some of them must cease to exist on our campuses.
Over the years, research has not taken its rightful place in higher education. It will interest you to note that, libraries in the various tertiary institutions have been flooded by research works and aggressively gathering dust. The challenge is that, industry and government have not been able to make good use of research findings to boost growth and development. For Ghana to harness the benefit of tertiary education, adequate funding should be allocated to research and development in all fields of study.
Again, we can't develop as a country if moral values have no place in our education system. We can't continue to educate young ones who have 'paper certificate' but have no respect for moral values like integrity, honesty, respect, kindness, patriotism, patience among others. Education whether formal or informal without values lead to moral decay in society.
For tertiary education to serve its purpose in society, private tertiary institutions should be given the support to complement the efforts by government in providing higher education for its citizens. It is quite unfortunate that, most private tertiary institutions are producing graduates with degrees that are 'in excess' such as business and liberal art degrees and leaving out science and technology which are also essential. Going forward, government must assist private institutions who are in technical, vocational, science and technology education to produce problem solvers in those fields.
For Ghana to reap the benefits of higher education, the Ministry of Education, Ghana Education Service, National Council for Tertiary Education, Public and Private tertiary intuitions must introduce these modules in their training of students. Firstly, ways of thinking which includes creativity, critical thinking, problem solving, decision-making and learning. Students should be trained to be innovative so as to come out with workable solutions in their field of study for the benefit of society. For instance, students in computer science should be able to develop soft wares that will help cut the lengthy bureaucratic processes in our public sector.
Secondly, ways of working which includes communication and collaboration must be emphasized. It is quite unfortunate that, some graduates lack basic communication skills both written and oral. In this 21st century, if you can't communicate well, you will be left behind. A lot of graduates have brilliant ideas but are unable to pitch their ideas and so our focus should be to train students to be good public speakers and communicators. Again, the art of working in groups should be core in our educational module. Collaborative problem solving means working together to solve a common challenge which involves the contribution and exchange of ideas, knowledge or resources to achieve the goal.
Thirdly, tools for working which includes Information Communication Technology and ICT literacy should be the focus of tertiary education in Ghana. Africa's Internet penetration rate is often cited by the ITU as 15.3% (June 2012), although this number represents anyone who has used the Internet within the past year. Again, Africa's mobile subscription rate is now over 50% and rapidly growing. Ghanaian students can't be left out of this ICT revolution. Going forward tertiary education should make online education a priority so that people outside of university campus can benefit from the same quality of education without necessarily being present in the lecture halls.
Indeed, tertiary education should provide skills for living in the world thus citizenship, life and career and personal and social responsibility. It has long been advocated that higher education providers should teach students a wide range of competency and generic skills that includes but are not limited to communication skills, problem-solving skills, self-directed learning skills, the ability to integrate ideas and concepts, and the capacity to work in teams and group environments. Education gives young minds form and shape and transmits vital knowledge – a process that shapes the societies in which we live and so Ghana's higher education should transform our society.
AMOAH-DARKWAH EMMANUEL
INTEGRITY AMBASSADOR
0245683297
[email protected]