Kwakwaduam Donates Presby Varsity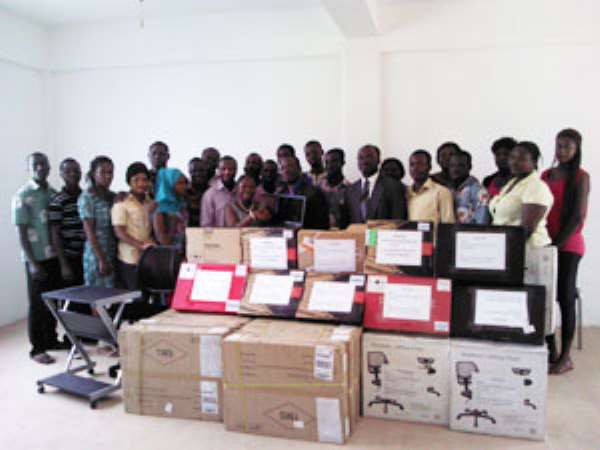 From: Rocklyn Antonio, Akropong
Ms. Caroline Tettey receiving a lap top from Dr. Alex Boafo of Kwakwaduam, USA. With them are the Assistant registrar, Rev. Kumi Yeboah and some lecturers and students
The Presbyterian University College has taken delivery of 10 brand new Dell laptops and other accessories from the Kwakwaduam Association Incorporated.
The Kwakwaduam Association Incorporated is a non-profit organisation based in New York, US.
Members of the association include Akuapem indigenes based in the US.
A consultant of the organisation, Dr. Alex Boafo, presented the brand new devices worth $7,500 to support the Information Technology Centre (ITC) of the college at a short ceremony on Thursday at the Akropong-Akuapem campus.
The items included 10 laptops and accessories, 10 tables and 10 swivel chairs.
Receiving the items, an ICT lecturer, Caroline Tettey expressed her heartfelt appreciation to the association on behalf of the authorities of the college.
She said patriotic citizens like Dr. Boafo constitute the minority in the country.
Ms. Tettey said, 'I believe this donation is just the beginning of better things to come. And I hope by this we create a good rapport to consolidate the budding relationship between the Presby College and Kwakwaduam for our mutual gain.
'Thank you and God bless you for your kind gesture.
The assistant registrar of the school, Rev. Kinsley Kumi Yeboah also enumerated some challenges the school.
He called on the Kwakwaduam Association to assist the college to stock its library with books and other materials needed for research.
Rev Yeboah called for assistance in the construction of accommodation for students and lecturer, noting that lecture halls were inadequate.
'The school would soon begin its nursing faculty and we will need support to put up an ultramodern demonstration room or laboratory. We will be happy if your organisation can help us with equipment,' he appealed.
He lauded Dr. Boafo for doing something positive to help the community.
In response, Dr. Alex Boafo noted that he and members of the association would continuously help the school.
He said as a physician specialist, he was well vested in health issues and would use Kwakwaduam to solicit help for the Nursing School and others that needed immediate attention.
He explained that as indigenes of Akuapem, they were obligated to support their hometown.
'This is not the only donation, we have given to other communities boreholes, among others, running into thousands of dollars and we hope our contributions go a long way to help our beneficiary communities. I believe together we can achieve more.'