Fuel Siphoning Syndicate Busted At Ejisu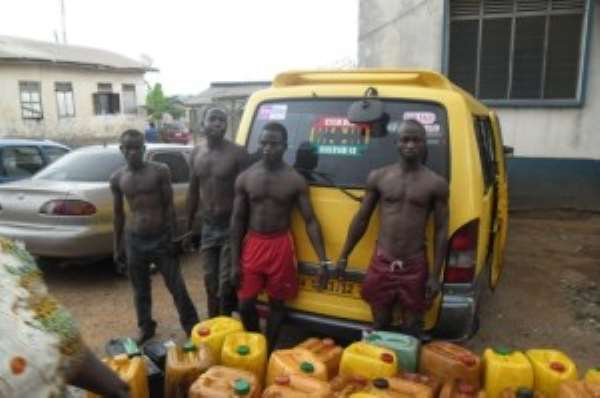 FOUR PERSONS have been remanded into police custody by the Juaben District Court, after they were arrested for stealing large quantities of fuel at Cell Sites at Ejisu in the Ashanti Region. The four suspects, including the driver of a Ssanyong Bus used for the operation, were busted by the Ejisu Police Patrol Team at around 4 am on Tuesday, following a tip-off.
The suspects, whose names were given as Kwadwo Gyan, a.k.a Naaro, Ahmed Salifu, Kwaku Boahen and Christian Amponsah, reportedly attacked the security officer manning a Cell Site belonging to American Towers Company (ATC), but being managed by Geoquaye Company Limited, dealers and suppliers of industrial generators in Kumasi.
According to the Ejisu Divisional Police Commander, Supt. Stephen Kwakye, the suspects hail from Obuasi and were known to be members of a fuel stealing syndicate, operating in the Ashanti Region.
Supt. Kwakye said around 3:30 am on Tuesday, they received a tip-off that four armed robbers, including the driver, had attacked a security officer at a Cell Site belonging to Glo Mobile Network at Ejisu and
were siphoning fuel from tanks used to power generators.
He said a patrol team was dispatched to the site and upon arrival, the team discovered that the robbers had siphoned about four gallons of fuel and were in the process of siphoning additional 15 gallons before the team arrived. Supt. Kwakye said when the robbers got wind of the police, they ran into a bush nearby, leaving the booties, including large industrial batteries, but were later ambushed and arrested by the team.
Upon their arrest, the Police Commander said various offensive weapons; including knives and machetes were retrieved from them. He said the suspects were subsequently processed before the Juaben District Court and had been remanded into custody to re-appear on Tuesday, February 24.
Meanwhile, the Operations Manager of Geoquaye Company Limited, the firm which is manning the site on behalf of the mobile networks, Glo and MTN, Mr. Joshua Sarpong Kumankuma, said the activities of fuel thieves were having serious effect on the company's operations. He said averagely, about 5,000 litres of fuel are stolen from the company's sites, numbering about 430 in the region, on weekly basis.
According to him, the robbers usually take advantage of the relaxed security at most of the sites and attack personnel with heavy weapons, stealing several gallons of fuel used for powering the generators.
He said once these fuels are stolen from the sites, it becomes difficult to power the generators in an event of power outage by ECG.
A situation, which he said, normally results in the loss of mobile networks in the catchment areas.
Mr. Sarpong, therefore, commended the Ejisu Police and the Ashanti Regional Police Command for arresting the suspects, but called for intensification of their operations, in order to nip the activities of the syndicates in the bud.
Pix: The suspects arrested by the Ejisu Police