Three Ga West communities get classroom blocks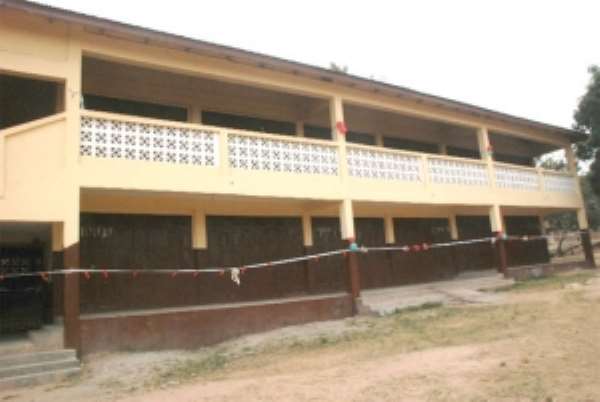 A two-storey six-unit classroom block has been inaugurated for the Pokuase M/A Primary School in the Ga West Municipal Assembly in line with efforts to improve the delivery of education in the municipality.
It cost GH¢340,925.83 to construct the school building.
The Municipal Chief Executive (MCE) of Ga West, Mr Sam Atukwei Quaye, who inaugurated the building, performed similar assignments at Amasaman and Amamoley, as he inaugurated classroom blocks for the Amasaman M/A Primary School and the Amamoley Methodist Basic School, built at  GH¢66, 243.87 and GH¢149.203.62  respectively.
Mr Quaye said the schools,   with ancillary facilities, were funded from the GETFund. They would bridge the infrastructural gap and improve teaching and learning.
He reiterated the government's commitment to improve teaching and learning, especially in rural communities. 
Mr Quaye said the assembly had purchased 600 mono-desks for distribution to some selected schools in the municipality, adding that it would soon introduce formica boards to replace blackboards in the classrooms.  Advice
The MCE charged the school authorities to put the facility to effective use and advised the pupils to take their education seriously in order not to make nonsense of the efforts of the government.
He asked that as the government discharged its obligation by providing school blocks with ancillary facilities, as well as teaching and learning materials, parents and teachers should ensure that the needed atmosphere and conditions prevailed to facilitate their children's education.
Mr Quaye promised to visit the schools frequently to find out how the facilities were being maintained. Spokesperson
The Headmistress of the Pokuase M/A Primary School, Mrs Charlotte Anumel, on behalf of the chiefs, pupils and staff, thanked the government for the facilities it had provided for the schools. 
Mrs Anumel expressed the hope that they would help do away with the shift system, which, she said, remained one of the challenges hindering quality education in the area. 
"This will help expose recalcitrant pupils who hide behind the shift system and stay away from school," she said.
She also appealed for libraries for the pupils to help them acquire further knowledge outside the classroom.
Earlier, the MCE and his entourage, among other things, inspected drainage projects at Fise and Pokuase.
Mr Quaye called on the residents and members of the Assembly to support him in his efforts to develop the Ga West community.