CBD traders to be relocated to Adjen Kotoku on February 28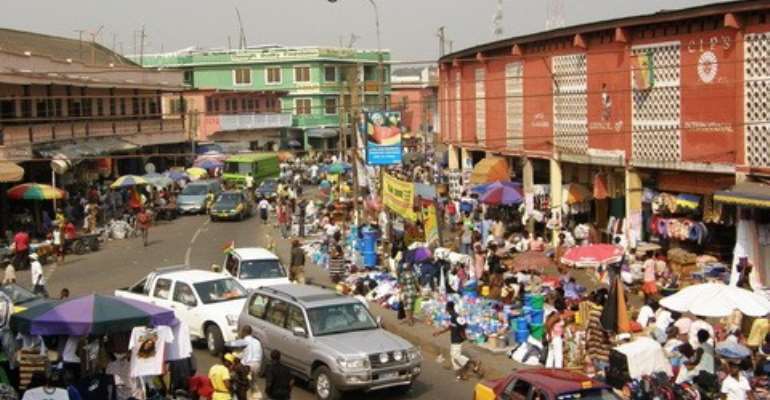 The relocation of traders from old Fadama and the Central Business District of Accra to the new site at Adjen Kotoku is set to take off on February  28 this year.
Speaking to Joy News' Kwakye Afreh-Nuamah, the Ga West Municipal Chief Executive, Sam Atukwei Quaye noted, "they [traders] have all agreed to go. Except for the onion sellers and the yam sellers, [who need a bigger land], which we have already acquired. Government has released money to the ministry for the people to be compensated. So on the 28th of February, the market will be relocated."
The Ga West Municipal Assembly will be leading a team made up of the National Security, the Accra Metropolitan Assembly and the Police Service to perform the task.
Checks by JOYNEWS at the site reveal government has completed the structures the traders will be occupying.
Kwakye Afreh-Nuamah, who has been to the location, reports that Adjen Kotoku, which is located twenty minutes from Medie on the Nsawam road, is expected to become a major commercial hub in the capital.
Even though not much has changed since his last visit three months ago,Afreh-Nuamah said inhabitants, mainly artisans were busily going about their usual duties.
Additionally, the 'Okada" business is still very lucrative in the area as commercial motor riders move freely on well-tarred roads constructed in the area.
A new Central Business District has been set aside in Adjen Kotoku for the businesses at Accra's Central Business District to be relocated as well.
A school building, hospital and a fire station are presently available, as are structures meant to house the various shops and offices. The hospital and the fire station are fully in operation.
According to the authorities of the Ga West Assembly, there are squatters already on the land earmarked for the market, and warned chiefs to desist from reselling the land.
The authorities are bent on compensating only the chiefs and individuals,  who have title deeds before the commencement of the project as unauthorized structures will be demolished without compensation.
On how the relocation of the traders will be done, the Ga West MCE noted that the stalls built will be allocated to beneficiaries, after which customary rites will be done.
Subsequently, the minister for water resources, works and housing will organise a durbar to officially open the project, Mr. Quaye intimated
The MCE also noted that the Assembly is not prepared to offer any accommodation to traders, who do not reside near Adjen Kotoku as it intends to put up more structures to accommodate more traders as the years go by.