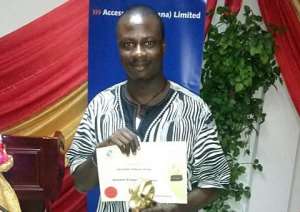 JOY FM's  Benjamin Tetteh has been awarded Business Broadcaster of year at the GOLD AWARDS for Business Journalism for 2012.
Mr. Tetteh was among 19 institutions and individuals  recognized for their contribution to excellence in business and financial reporting in the country  last night .
The award winners were recognized based on stories they entered for various entries.
Mr. Tetteh later told JOYBUSINESSS he was humble by the  acknowledgment he received.
"this award is going to motivate me to do more; we need to really do more and I accept the views expressed by the judges that there is a whole lot out there to be done," he stated.
Rebecca Awuah of GTV was awarded  as the overall business journalist of the year after sweeping three awards.
According to head of the award jury and Corporate Affairs Manager of ACCESS BANK, Matilda Asante, the jury received equally good and competitive entries based on fact findings, accurate figures and indebt analysis with relevant research.
Rebecca Awuah later told JOYBUSINESS the award would put pressure on her to live up to the task.  
Director of the MOSOE, Iposu Elijah Kayode said the awards was highly competitive in terms of works submitted.
The awards is put t is put together by MOSOE production  in partnership with the Institute of Financial and Economic Journalists to recognize excellence in business and financial reporting  in the country.
Below is the full list of the award winners:
Investigative Reporter of the Year - Samuel Agyemang
Financial Reporter of the Year – Nana Amoto-Mensah
SME Reporter of the Year - Emmanuel Kwabla
Mining Oil & Gas Reporter of the Year – Emmanuel Kwabla
ICT Reporter of the Year – Charles Benoni Okine
Business Feature of the Year – Daniel Nanor
Business Reporter of the Year Radio – Vivian Kai Mensah
Business Reporter of the Year TV – Rebecca Awuah
Business Reporter of the Year Print – Suleiman Mustapha
Business Reporter of the Year Magazine – Fred Bethel Sarpong
Business Broadcast of the year( RADIO ) – Benjamin Piorgah
Business TV Station of the Year – ETV
Business Radio Station of the Year – Citi FM
Print Media of the Year – Graphic Business
Print Media of the Year, Magazine – Business World Magazine
Online Media of the Year – Ghana Business News
Lifetime Achievement Award – Rayborn Nii Armah Bulley