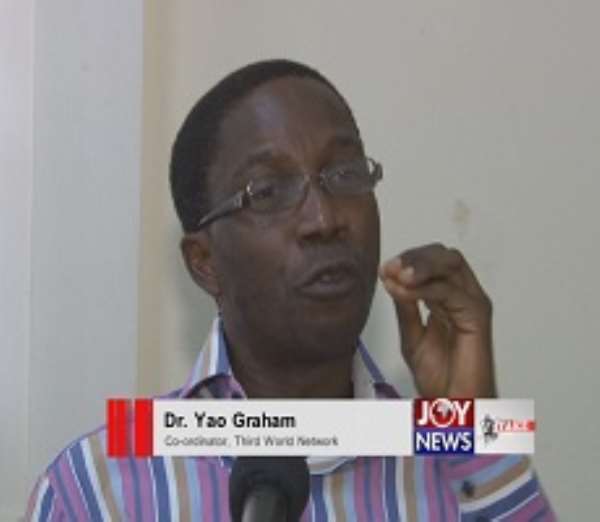 The Coordinator of the Third World Network, Dr. Yao Graham says Ghana needs a multifaceted strategy to ensure its freedom to make choices in its developmental infrastructure.  According to him 'if you run your economy such that you end up going back for conditional money, then you sacrifice your sovereignty '.
Speaking on Tazan's Take on Joy News on how to wean ourselves of international aid, Dr. Graham alluded to Dr. Kwame Nkrumah's posture towards depending on the white man for every little thing when he said "to have independence with danger is better than servitude in tranquility". He regrets that these days "our ruling elites love this servitude in tranquility than anything else".
http://photos.myjoyonline.com/photos/news/201312/2186901304353_6386445437350.jpg According to him "our elites are quite proud to say the IMF approves of what we are doing, the British approve of what we are doing or we are doing this in collaboration with EU… that is a problem",  he decried.  He describes the phenomenon as "a shift in mentality which also is a precondition for thinking through our choices". 
He referred Ghana to take cue from the example of the Asian, Latin Americans and China who severed the practice of relying on external assistance after the financial crisis in the mid 90s which brought them under the tutelage of the IMF. Rather they developed strategies in both domestic and foreign reserves so that they could fall on in the event of any mishap in the future. He said china in particular in doing so has managed to build up its foreign reserve to the tune of over a trillion currently.
Recounting a discussion which ensued in parliament recently over developing plan for parliament to set up a structure to evaluate contracts and then someone "talks about going to the UK house of Commons to get support from there"…. I immediately smelled aid'; on even the smallest thing, there is an aid mentality within our elite'' he regretted to note.
"So the strategic thinking and planning to get out of aid is not there!", he bemoaned.