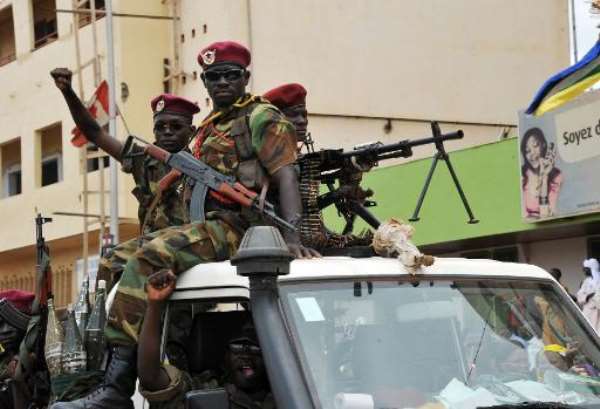 Armed Seleka rebels on a pickup truck in Bangui on March 30, 2013. By Sia Kambou (AFP/File)
Bangui (Central African Republic) (AFP) - The Central African Republic's interim president has announced "exceptional measures" designed to quell violence by ex-rebels.
The statement issued late Tuesday by Michel Djotodia's office did not provide details on the measures, announced a day after UN chief Ban Ki-moon said the world body may have to send thousands of peacekeepers to the strife-torn country.
"The president wants to assure the Central African people of his determination to hunt down all criminals, looters, troublemakers, human rights violators and their accomplices," the statement said.
"Exceptional measures are being taken to restore security," it said.
Since Djotodia seized power in a coup in March, the remnants of his Seleka rebel coalition have been sowing chaos across the vast nation.
Government forces are struggling to assert their authority beyond the capital Bangui. An under-funded and ill-equipped African force has made little impact so far.
Former colonial power France has warned that the Central African Republic -- one of the world's poorest countries -- risked becoming a Somalia-style "failed state".
Djotodia is the first Muslim president in the Christian-majority country and some of the recent deadly violence has had sectarian undertones.
A senior Washington diplomat warned on Tuesday that the country was in a "pre-genocidal situation".
In a report on Monday, Ban Ki-moon said that one alternative to providing financial and logistical support to the African force was to send up to 9,000 UN peacekeepers.
Human Rights Watch argued the report clearly suggested that the African force -- known as MISCA -- was not up to the task and that "only a UN peacekeeping mission can avoid the worst case scenario."