Integrated And Comprehensive Assessment Framework Is The Best Approach To Safeguard And Protect Children In Need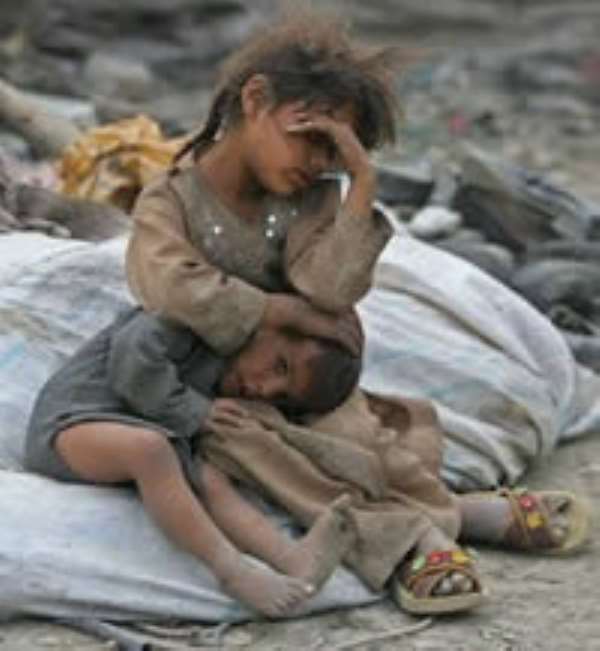 Throughout the world, children and young people are society's future and it's most valuable and precious assets. It is therefore prudent and wise for society to ensure and promote those opportunities for them to lead healthy, fulfilled and satisfying lifestyles, most especially those of them who may come into contact with the law and assessed as in need. Thus these children and young people should be provided with the requisite and appropriate framework, within which they can become active participants and contributors to community or society's development and indeed nation building.
Suggestively, society owes this group of its membership, a level of empowerment that should equip them with the relevant and appropriate tools, skills and the knowledge in becoming active participants in the social, political, economic and educational life of the society. In making available adequate provisions for or providing the relevant and appropriate intervention services to meet with the needs of disadvantaged and vulnerable children and young people, will definitely depend on identifying to understand what is happening to them, so as to undertake the most positive intervention strategic work, in addressing their needs.'
Empirical research evidence is replete about indicting that ,in delivering better life chances to these category of children and young people is best achieved through a range of cross-cutting, inter-agency initiatives and actions. Child care policy and procedures must equip practitioners to focus on the development of an assessment framework for assessing children and young people in need and their families, to ensure a timely and practical response and the effective provision of required intervention services.
Meeting the perceived needs of children and young people should understandably be acknowledged and appreciated as a corporate responsibility, which must fall not only on the ministry for gender, children and social protection, but equally on local government ,district assemblies, education , health authorities and community services i.e. the police . For one thing, improving the quality of services to children and young people can only be best achieved through effective and efficient partnership and collaboration between these professionals and those other agencies mandated to provide intervention services to children, young people and their families.
The 1998 children's' act is categorical about the welfare need of the child, which is deemed to be paramount under any circumstances and at all times. Given this legislative and statutory obligation towards children and young people, securing their wellbeing and protecting them from significant harm and all forms of risk and ensuring their developmental needs are adequately responded to holistically, should be a primary core national child care policy .in this regard, all agencies working alongside with the ministry of gender, children and social protection should and must demonstrate the understanding of their duty of care, in safeguarding and promoting the welfare of children who may be in need in their geographical locations. Importantly though, the effectiveness with which needs are assessed is a crucial task and determinant key to the effectiveness of any subsequent actions or outcomes of any assessment process ,procedure and service delivery that meets the child or young person's needs.
In achieving this feat, child care -social workers or practitioners will require the development of a practice assessment framework which can provide or should provide a systematic mechanism of analysing, understanding and recording, what may be going on in the child or the young person's life either within his/her own family stricture and or within the wider context of his/her community in which he/she lives. It is this assessment outcome of what may probably have presented as a complex challenge which should inform any purported intervention strategy relevant and appropriate in meeting the welfare needs of children and young people .indeed, this seemingly evidence-based knowledge which would have informed service delivery, would need to be drawn from a wide range of research studies and theoretical perspectives across a number of disciplines and from an aggregate of policy and best practice indexes.
It is best professional practice for practitioners to give due attention and consideration to the principles reflected by the United Nations Convention on the Right of the Child, and those legislative requirements of the 1998 Children's Act, which provides some elements for the care and protection of children and young people .it is in line with this that it may become prudent to advocate for the development of a practice guidance policy and procedures, one that should primarily be for the use of social work professionals and any other practitioners who may be involved in undertaking assessments of children and young people in need as determined by the 1998 children's' act .
This guidance should mandate the department of social welfare ( social workers and not probation officers ) to have the lead role or responsibility for assessing children and young people in need, with adequate assessment support from other agencies as health, education etc. In equipping social workers with any additional information aimed at a holistic needs-led assessment in undertaking their functions towards their clients. it should be best practice for these other agencies to have an awareness and understanding of any assessment framework. Their awareness of the assessment framework when making professional contributions to the assessment process of children and young people in need will no doubt facilitate communication between all professionals on one hand and on the other hand with children and young people and their families.
This will reduce any unnecessary duplication of assessments and delays of the assessment process and the potential consequences for service delivery. Research evidence is indicative that most families if not all may be confronted with difficulties or challenges from time to time , which may be occasioned by several reasons that may have potential impact on the well-being of their children and or young people . Some of these reasons may include physical ,emotional , psychological and or mental ill-health in the family ,death of a family member , family break-downs or family dysfunction, sudden loss of gainful employment , loss of accommodation which may be occasioned by unforeseen natural disasters –fire, floods etc.
Whereas some parents may cope with or come to terms with anyone event, a combination of such challenges may pose significant cumulative negative effects on parents with their impacts on the well-being of the entire family set up including children and young people Clearly, the challenges or problems that may confront children, young people and their families are often interlinked.
This should explain or justify why professionals or practitioners mandated to provide adequate intervention services to children, young people and their families would need to work in close collaboration and partnerships in ensuring effective and efficient service delivery , This can meet the needs of service users, as everyone benefits when services are properly and carefully co-ordinated and integrated. Most families, children and young people that may come in contact with the law or be seeking help and or assistance and support may have differing levels of need, which may require varying intervention packages or services.
Practically, many may require advice or counselling or short term minimal services to keep them on track of recovery from their situations or predicaments. However, the possibilities for others with much more complex and serious challenges, may require a much more detailed care assessment, which may involve the active professional participation and or contributions or in-put from other agencies in the assessment process ,care plans and appropriate, relevant quality intervention-service delivery.
It is best practice approach to care delivery for children, young people in need and their families to ensure that needs-led assessments discriminate effectively and efficiently between different types and levels of need from the on-set or at the point of referrals. This may be critical to the objectives of improving the efficiency and effectiveness of intervention services to children, young people and their families. The practice evidence is that this can secure best value from available resources that have to be marshalled in promoting the best interest and welfare needs of service users- children, young people and their families.

The author a social care and offender management and rehabilitation consultant is a penal reform advocate and the operations director of OMRO. For further details contact [email protected]