Suspected rebels kill one in Mozambique highway ambush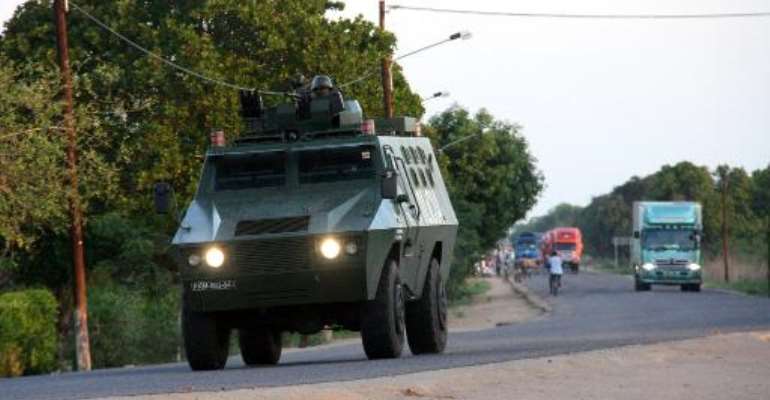 Maputo (AFP) - Suspected Renamo ex-rebels ambushed a convoy of cars Friday killing one person and wounding 10 others along a key highway in the latest of low-intensity attacks gripping Mozambique, state radio said.
"One person is dead and 10 are injured as a result of an attack by armed men from Renamo between Muxungue and the Save River," Radio Mozambique reported.
It is the latest in a wave of attacks in central Mozambique and other parts of the coal-rich southeastern African nation.
It comes just days ahead of local government elections scheduled for Wednesday.
In recent months civilian vehicles have had to be escorted by the military along a 100-kilometre (60-mile) stretch of the road that has become a target of armed men thought to belong to the ex-rebel movement turned opposition.
But that has not deterred the armed raids.
Both radio and a local resident said the armed men dug up a trench on the highway in a bid to lay ambush on the cars, a tactic previously used by Renamo during the 16-year civil war that ended in 1992.
"Armed men came to the national road. They cut the street by digging a big hole to stop cars from passing," resident Obete Cuambana told AFP.
On arrival at the hole, the troops stepped out of their cars to inspect the hole and "the armed men started shooting at the soldiers," added Cuambana.
It was not immediately clear if the casualties were civilian or military.
Director of Muxungue rural hospital, Pedro Vidamao, told the radio that the dead was among three seriously wounded victims.
"We ended up losing one of them... who was gravely wounded and haemorrhaged after arriving at the hospital," Vidamao told the radio.
National police spokesman Pedro Cossa said he was unaware of the attack.
Meanwhile, state radio also reported another separate attack had taken place Friday along a highway leading to nearby Malawi in the north of the country.
Armed assailants also intercepted a truck in Nampula province and shot and wounded its driver.
"A group of armed men, we suppose are from Renamo, armed with guns, attacked a vehicle," provincial police spokesman, Miguel Bartholomeu told Radio Mozambique.
The attacks occur as political parties are on their final campaign trails ahead of next week's municipal polls.
Renamo is boycotting the vote and has threatened to disrupt polling.
But the commission overseeing Mozambique's local elections is upbeat the vote can go ahead despite ongoing instability.