Tmg Quick Count–Anambra Gubernatorial Election–Saturday 16 November 2013 Fact Sheet
1) Transition Monitoring Group (TMG) will deploy a total of 633 non-partisan citizen observers – 33 mobile supervisors and 600 stationary observers assigned to specific polling units–employing the advanced Quick Count observation methodology and utilising the latest information and communication technology (ICT) to observe the Anambra gubernatorial election.
2) As a result, TMG will be able to provide real time, representative and statistically valid information on the conduct of the Election Day processes – arrival of staff and materials, setup of the polling unit, accreditation of voters, voting itself and counting of ballot papers – both what goes well and any possible areas of concern.
3) TMG will also be able to verify independently the accuracy of the official results that the Independent National Electoral Commission (INEC) releases based on the official results announced and posted at polling units.
4) TMG's 600 stationary observers will be deployed in pairs to a representative random sample of 300 polling stations located in all 21 local government areas (LGAs) in proportion to the number of polling units in each LGA, according to well established and widely accepted statistical principles (see attached table).
5) At sampled polling units, TMG observers will closely watch the process throughout Election Day and complete a checklist with 36 detailed questions about the process, from the time of arrival of INEC materials to the posting of the official results, INEC Form EC.8A (see TMG Observer Checklist).
6) Throughout Election Day, TMG observers are expected to send to an information centre located in Abuja a total of 3,600 text messages containing 21,600 individual pieces of information about the conduct of Election Day processes (see point 2).
7) All 633 TMG supervisors and observers will also text in critical incidents about serious problems that may occur on Election Day. TMG mobile supervisors will send in reports from anywhere in their assigned LGA (see TMG Critical Incident Form).
8) TMG mobile supervisors will also be deployed to the 21 INEC LGA Collation Centres to record and transmit the official INEC LGA-level results.
Selection of sampled polling stations was done in a two-step process:
1) The sample is allocated proportionally based on the percentage of polling units in each LGA. For example, Idemili South LGA has 4.3% (200 of 4,608) of the polling units in Anambra, therefore 13 of 300 or 4.3% of the polling units in the sample are in Idemili South LGA. What demonstrates that the sample is representative that the percentage of polling units closely matches the percentage of sampled polling units for every LGA.
2) Once the number of sampled polling units for each LGA has been determined, then polling units are selected entirely at random for each LGA. For example, the 20 sampled polling units for Idemili South were selected entirely randomly from the 200 total polling units in the LGA.
At each polling unit, TMG will deploy two observers for a total of 600 observers.
9) Reports from all TMG mobile supervisors and stationary observers will be sent via coded text message and processed by a computer database for real-time information on the electoral process.
10) Elections ultimately belong to the people. TMG's observation effort will provide independent, non-partisan representative information on the quality of the process and the accuracy of the official results so that people can determine if the conduct of the Anambra gubernatorial election meets their expectations.
TMG receives technical assistance from the National Democratic Institute (NDI) and financial support from the United State Agency for International Development (USAID) the Quick Count and this program builds on a longer term initiative by NDI made possible by USAID and the United Kingdom's Department for International Development (DFID).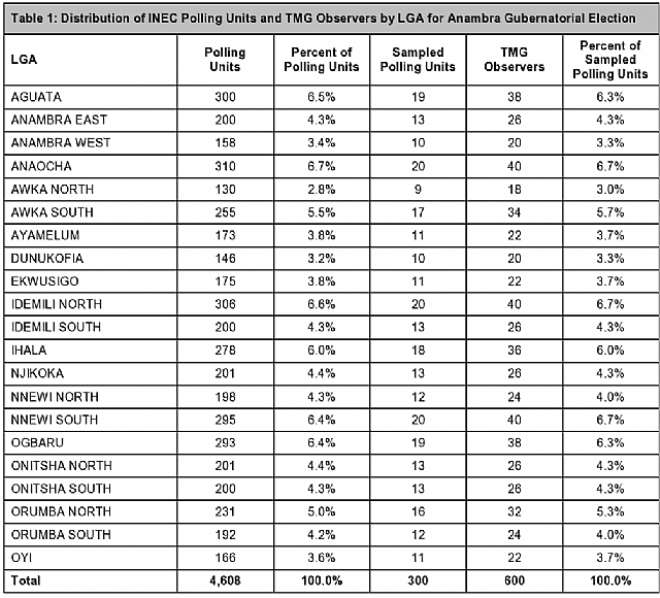 TABLE 1-PAGE0001