Togbe Bansah Honoured As Spiritual Leader Of The Ewes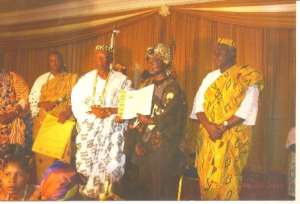 Togbui Bansah (Midle) With Other Distinguished Ewe Chiefs
Ngoryifia Togbe Cephas Kosi Bansah, popularly known as King Bansah from the Gbi Traditional Area has been bestowed as the traditional, spiritual and honourable king of the Ewes.
The honour was installed on him by the Ewe Fiaga Togbe Agokoli IV of Notsie in the Togolese Republic during the weeklong celebration of the annual Agbogboza of the Ewes.
At that memorable ceremonial occasion of the chiefs at Notsie to discern the contributions of King Bansah towards the transformation of the lives of the Ewes, Ewe Fiaga Agokoli IV presented a citation to Togbe Bansah for his enormous contributions in making the lives of his people better.
Togbe Agokoli IV who was extremely excited by the many development projects undertaken by Togbe Bansah called on others to imitate King Bansah in ensuring continuous transformation in the Ewe land.
Ewe Fiaga Togbe Agokoli IV also asked all the Ewe speaking nations to come and celebrate the Agbogboza with them in the subsequent years.
Togbe Agokoli was very grateful to Togbe Bansah and asked others to come to the support of the Notsie.
Togbe Bansah who was accompanied by Queen mother Dr.SusanneDattenberg-Doyle cut sod finance the building of a statue in memory of Ewe Fiaga Togbe Agokoli IV.
Chiefs from Ghana and Benin were also present to grace the weeklong celebration.
King Bansah who is a resident in Germany from 1970 to date went to the Notsie in Togo with the wife Queen mother Gabriele Bansah, Fredolin Kwasi Bansah, the Hohoe Municipal Deputy NADMO Coordinator, Togbe Osei III Dufia of Gbi-Godenu and some other friends from Germany to witness the celebration of their annual Agbogboza celebration.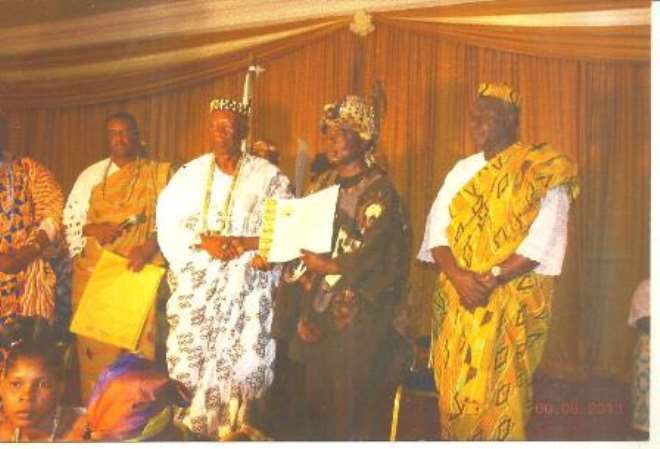 Togbui Bansah (Midle) With Other Distinguished Ewe Chiefs