Ohiamadwen farmers demand compensation from government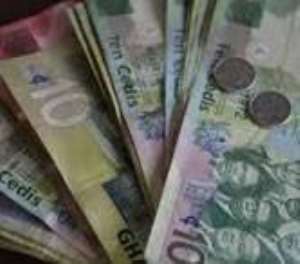 cedis
Shama (W/R), Nov. 7, GNA- More than 300 farmers whose crops were destroyed due to the Inland Valley Rice Development Project (IVRDP) at Ohiamadwen and its surrounding communities in the Shama District are in financial difficulties.
The Chairman of the aggrieved farmers, Kobina Badu, told the media at the sidelines of a day's stakeholders meeting in Shama that, the farmers are therefore demanding compensation from the government in order to venture into other businesses.
'Some of the affected farmers' children have drop out of school and could not redeem the loans they took from the bank whilst some of them are sick and bedridden, 'he said.
He said government acquired 75 hectares of land at Ohiamadwen, Kobina-Anokrom, Antigua, Badukrom, Dompim Number One and Babel/Nkronu for the rice project in 2005, but the venture stalled in June 2011, thereby leaving the farmers in abject poverty.
Mr Badu said no compensation was paid to the farmers, whose crops were destroyed.
He said the authorities of the IVRDP and Ministry of Food and Agriculture (MOFA) promised the farmers that the land would be returned to them after the preparation of the site for the cultivation of rice.
Meanwhile, Kofi Ayiah, former Western Regional Coordinator of the IVRDP, said the project had no compensation package for farmers since it was 'demand driven'.
He said no compensation was paid to farmers in eight other beneficiary districts in the Region, including Juabeso, Bia, Amenfi West, Sefwi-Wiawso, Ellembele, Tarkwa-Nsuaem, Aowin and Suaman.
Mr Ayiah said the project was supposed to be executed within a period of two years by Mark Sam Construction Limited, but the contractor delayed and the time elapsed, compelling African Development Bank (ADB) that released money for the project to terminate the contract in 2011.
Although some components of the project including building the capacity of farmers, dispensing credit to rice growers, supplying of farm inputs and organising farmers into groups were undertaken, preparation of the site for the project was not completed before the termination of the contract.
Mr Ayiah said the rest of the money for the project was diverted to the Northern Rural Growth Project (NRGP).
He announced that a new consultant from India has been contracted to re-design and re-package the rice project at Ohiamadwen and its surrounding communities.
Mr Ayiah said the consultant had visited the project site twice and submitted report to the NRGP and expressed the optimism that the project would be activated by December or January next year.
Mr Habib Mohammed, Development Planning Officer of Shama District Assembly, advised the aggrieved farmers to petition MOFA, the Assembly as well as the Member of Parliament for the area on the compensation package.
GNA