Muslims view eclipse as a sign and wonder of Allah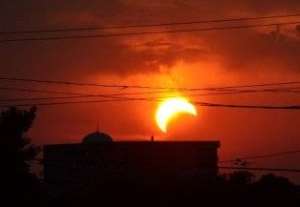 Eclipse new1
Accra, Nov.3, GNA - Alhaji Sheikh Ahmed Adjei, Deputy Greater Regional Imam of Ghana Muslim Mission (GMM), described Sunday's partial eclipse of the sun as one of the signs and wonders of Allah to Muslims.
Alhaji Adjei noted that the Prophet Mohammed said anytime Muslims experience signs, which are not ordinary they should rush and perform ablution and offer two 'rakkats' of prayers to Allah.
'Allah says we should offer prayers when such things happen to seek his favour so that in case this is coming with a good omen or blessings we would enjoy and when it is coming with a bad omen mankind would be saved,' he told Ghana News Agency in an interview in Accra.
He said even though this year's eclipse was partial as compared to 2006, Muslims are supposed to offer prayers as long as the phenomenon last, since 'it is the Sunnah (teachings) of the Prophet'.
Imam Suleiman Sackey also an Imam at GMM affirmed that even though scientists have come out with predictions and findings about the eclipse it is important to Muslims.
'As to why and how Allah in His wisdom made it (eclipse) is unknown hence the prayers,' he said.
A number of Ghanaians had the rare opportunity to view the partial eclipse of the sun, which first visible in the southern United States, before sweeping east across the Atlantic Ocean and the African continent.
The US space agency, Nasa, said the greatest total eclipse occurred over the Atlantic Ocean.
In a total eclipse, the Moon completely covers the sun, while an annular eclipse occurs when the Moon is at it's farthest from the Earth and does not block out the Sun completely, leaving a halo of sunlight still visible around the Moon.
The eclipse event began about 1,000km (620 miles) east of Jacksonville, Florida with an annular eclipse visible for four seconds at sunrise.
 
GNA