'Terrorists' shot dead two French journalists in Mali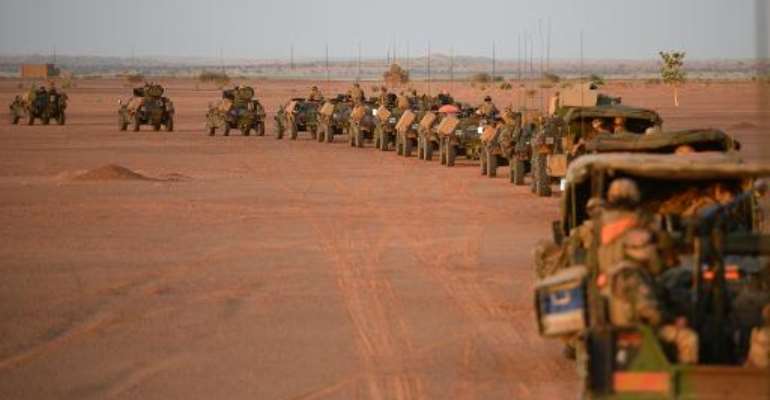 Bamako (AFP) - Two French radio journalists were shot dead by "terrorist groups" in northeastern Mali, Foreign Minister Laurent Fabius said Sunday as their bodies were flown to the capital Bamako.
Radio France Internationale (RFI) journalist Ghislaine Dupont and sound technician Claude Verlon to Bamako were kidnapped and killed in the town of Kidal on Saturday.
Dupont, 57, and Verlon, 55, "were killed in cold blood," Fabius said in Paris earlier Sunday after crisis talks led by President Francois Hollande. "One took two bullets and the other three."
"The killers are those we are fighting, the terrorist groups who are opposed to democracy and elections," Fabius added, saying that the journalists had been executed in an "odious manner."
He said security in "the entire zone and neighbouring areas, in particular with concern to French citizens, will be intensified."
A government source said French troops based in northern Mali would be made "more visible".
Justice Minister Christiane Taubira and the head of France's external intelligence services agency Bernard Bajolet also attended the hour-long talks with Hollande.
Dupont and Verlon had travelled Saturday to Kidal to interview a spokesman for the Tuareg separatist group the National Movement for the Liberation of Azawad (MNLA), and were abducted outside his home, according to their employer.
Both were veteran journalists with experience reporting in Africa, notably Dupont, who had spent 27 years covering the continent since joining RFI in 1986.
RFI quoted MNLA spokesman Ambery Ag Rhissa as saying he heard a commotion outside and saw the pair being bundled into a four wheel-drive vehicle after the interview.
Men in turbans and speaking the Tuareg language Tamashek "ordered Mr. Ag Rhissa to get back inside and forced the journalists' driver to lie down", RFI said, adding that Rhissa had heard Verlon and Dupont resist and protest.
"This was the last time that the journalists were seen alive," Marie-Christine Saragosse, chief executive of France Media Monde, which owns RFI, said in Paris.
She said she was leaving for Mali to bring back the bodies. RFI said the bodies could be repatriated to France as early as Monday, after which autopsies will be conducted.
Malian Prime Minister Oumar Tatam Ly and visiting French junior minister for veterans affairs, Kader Arif, were on hand for the arrival of the bodies at the Bamako airport on Sunday.
A French military patrol found the victims' bodies lying near their car about 12 kilometres (seven miles) east of Kidal less than two hours after the kidnap, Fabius said.
The UN Security Council has strongly condemned the killings, while European Commission President Jose Manuel Barroso called them "barbaric".
On Tuesday, four Frenchmen were freed three years after being abducted in Niger, which neighbours Mali, by an Al-Qaeda offshoot. They had been held in Mali's vast arid north.
But jubilation over their liberation was tempered by speculation that a huge ransom may have been paid to secure their freedom. Paris has denied paying money to the kidnappers.
Kidal residents 'deeply upset' over deaths
There has been a resurgence of violence in Mali, a former French colony in west Africa where Paris sent troops early this year to drive out Islamists and Tuareg MNLA rebels who had seized the country's vast north after a coup in Bamako.
Malian Defence Minister Soumeilou Boubeye Maiga told France 24 television that Kidal was "the only region where the sovereignty of the state is not effective," adding that the free circulation of arms in the area created a situation "which can benefit all radical elements."
Kidal residents were still reeling from shock on Sunday.
"I am deeply upset. I saw the two journalists an hour before they died. They were happy to be with us," said Awa Diallo. "They were very kind."
Kidal, situated more than 1,500 kilometres northeast of Bamako, is the traditional homeland of the Tuareg people and the birthplace of the MNLA's rebellion.
The MNLA has condemned the killing and said it would go all out "to try and identify the guilty".
Pierre Boilley, the director of the Paris-based Centre for African Studies (CEMAF) said the attackers most probably belonged to Al-Qaeda in the Islamic Maghreb, which is very active in the region.
A French government source said the journalists had asked to be taken there with troops from France's Operation Serval mission, but ended up going with the United Nations MINUSMA peacekeeping force after Serval refused for safety reasons.
The deaths come just three weeks ahead of parliamentary elections which are supposed to mark the completion of Mali's transition back to democracy following a military coup in March last year.