NBA: Chicago bowed again -video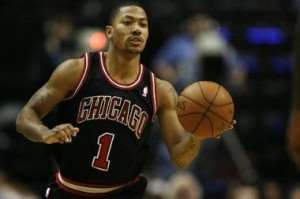 10916195-large
http://en.africatopsports.com/wp-content/uploads/2013/11/10916195-large.jpg The start of the regular season for Chicago Bulls is the opposite of his pre-season. The franchise in Illinois fell again. Teammates of Joakim Noah (11 pts, at 4/11 on penalties) and Luol Deng (20 pts on 8/21 shooting and 0/3 3-pointers) were dominated by the Sixers, 107-104.
While Derrick Rose (13-4 / 14 2-point and 1/3 from behind the arc) accepts responsibility for the sluggish Bulls season, it is the collective that has failed to shoots (42/93) that night against Philadelphia (see boxscore). After his remarkable statistics against the Miami Heat, Michael Carter-Williams was expected this meeting. 76ers rookie answered this with a Dual (26 pts, 10 feet), plus 4 rebounds and 3 steals.
Undefeated during the break, Chicago has already consumed two defeats in three regular season games.
Video here! http://www.youtube.com/watch?v=-UXTRX3PiGs