Teenage Pregnancy in Abor Frightening – Headmaster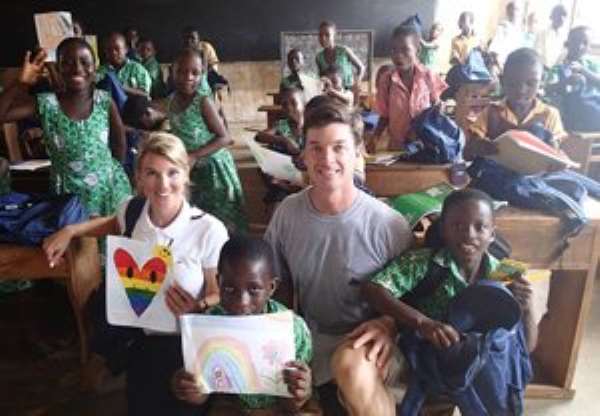 Courtenay and Brad Fields with some of the pupils
According to him, 'Teenage pregnancy is becoming a normal phenomenon, a total of 12 girls are already pregnant, eight of them have babies, while the remaining four, some of whom are still in school, are battling with pregnancy.'
Mr Agbemabiase described the situation as disheartening as most of the girls aged 10 to 15, had already dropped out of school because of their poor academic performance.
He added that the worrying aspect of the situation was the fact that some of these children sat for this year's Basic Education Certificate Examination (BECE) in their state, while others are still battling with their babies' upkeep.
Mr Agbemabiase made this known when Brad and Courtenay Fields from America, made a donation of some school materials to the Abor Roman Catholic Basic School.
Brad and Courtenay Fields are founders of Crayons Matter, a company based in Greensboro, North Carolina, USA, which started in 2011.
The Head master attributed the prevalence of teenage pregnancy to poverty and neglect by parents and guardians in the upbringing of the children. He mentioned the lack of educational infrastructure and lack of teaching personnel as some of the challenges being faced by the school.
He urged pupils to take advantage of the facilities provided by the couple, like the library and ICT laboratory to improve upon their level of academic performance.
The couple earlier visited SOGASCO Junior High School, where a similar donation was also made.
The Chief of Abor, Togbe Dordzeavudzi Atsrifo expressed gratitude to the couple and prayed for God's blessing for them.
 From Fred Duodu and Caroline Tsormana, Abor