Britain says 'nonsense' that Liberia's Taylor ill-treated in jail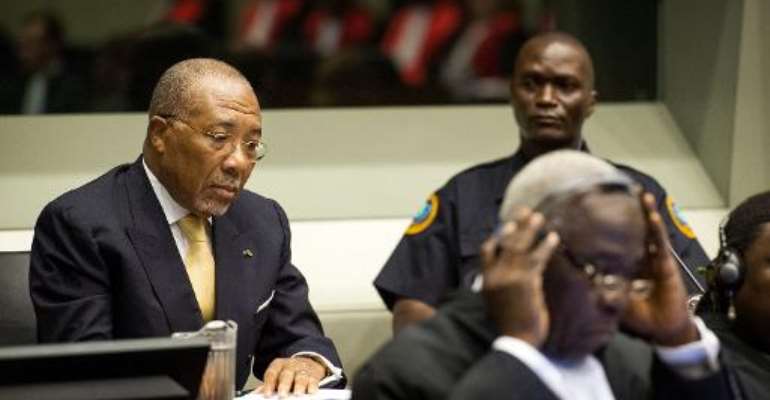 London (AFP) - The family of former Liberian warlord Charles Taylor said Tuesday that he is being ill-treated in the British jail where he is serving his 50-year war crimes sentence, but Britain dismissed the allegations as "utter nonsense".
Taylor family spokesman Sando Johnson told a press conference in Liberia's capital Monrovia that prison officers were withholding food and water from the 65-year-old former president, who arrived at a British jail two weeks ago.
The name of the jail has not been revealed.
"Information we got revealed that he is not given food and even water," Johnson told reporters. "If this continues for the next two days, Taylor may die in jail."
But a spokeswoman for Britain's Prison Service said: "These allegations are total nonsense."
Taylor's spokesman said friends and contacts had obtained the information and that the family had not been in contact with him since he was transferred to Britain from The Hague, where he had been held since the start of his trial in 2007.
A source close to the family told AFP that Taylor's wife was able to talk to him for 10 minutes on the day he was transferred to Britain, but not since then and she was "very worried."
Under the terms of Taylor's prison sentence, the Committee for the Prevention of Torture is able to visit him in prison at any time, officials have said.
Taylor is likely to spend the rest of his life behind bars in Britain after the UN-backed Special Court for Sierra Leone (SCSL) in The Hague upheld his sentence last month for arming rebels during Sierra Leone's brutal civil war during the 1990s.
His landmark sentence on 11 counts of war crimes and crimes against humanity was the first handed down by an international court against a former head of state since the Nazi trials at Nuremberg in 1946.
The British government had offered in 2007 to house Taylor in a British jail if he was convicted, and to cover the costs of his imprisonment.
As Liberia's president from 1997 to 2003, Taylor supplied guns and ammunition to rebels in neighbouring Sierra Leone in a conflict notorious for its mutilations, drugged child soldiers and sex slaves, judges ruled.
He was found guilty of supporting the rebels during a civil war that claimed 120,000 lives between 1991 and 2002, in exchange for "blood diamonds" mined by slave labour.