Moroccan journalist in Qaeda video case freed on bail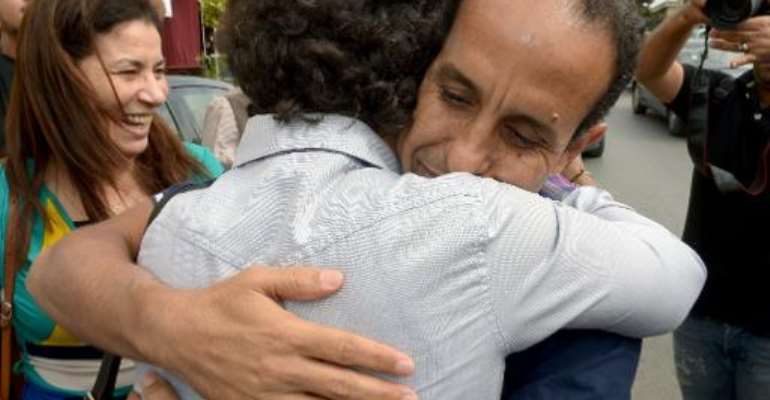 Rabat (AFP) - A Moroccan journalist on trial for aiding terrorism was freed on bail Friday, after his arrest last month for posting a video link attributed to Al-Qaeda triggered an international outcry.
Ali Anouzla was arrested on September 17 after his website posted a link to a video attributed to Al-Qaeda in the Islamic Maghreb (AQIM), with the authorities saying he was giving the jihadists a platform.
On Friday, Anouzla walked out of the Sale prison near Rabat, accompanied by his lawyer, Hassan Semlali, an AFP photographer said.
A committee of support was outside the prison gates to welcome him.
Earlier Friday, the defence lawyer told AFP the court agreed to grant Anouzla provisional bail but that he would continue to be prosecuted for defending, providing material assistance to and inciting terrorist acts.
Semlali said Anouzla would appear again before the public prosecutor on Wednesday.
Anouzla is known for criticising state institutions, including the monarchy, effectively a taboo subject in the Moroccan media, and has been prosecuted in the past.
He heads the Arabic version of independent news website Lakome, which posted a link to a 41-minute video attributed to AQIM, Al-Qaeda's affiliate in North Africa.
Entitled "Morocco: the kingdom of corruption and despotism," the video calls for jihad in Morocco and lashes out at King Mohammed VI.
Anouzla's arrest was denounced by rights groups inside and outside Morocco, with Amnesty International calling him a prisoner of conscience and demanding his release.
The United States expressed concern over his arrest and Reporters Without Borders urged France to raise the issue with Moroccan authorities.
Under Morocco's tough anti-terrorism law, which was adopted in 2003 after a string of suicide attacks in Casablanca, the journalist risks up to 20 years behind bars.
Anouzla is an experienced journalist who recently broke the story of a convicted Spanish paedophile who was freed in August under a royal pardon. The pardon was revoked after it sparked angry protests across the country.