Dagbon Youth Cautions Mahama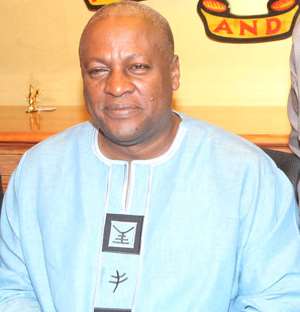 President John Mahama
Prince Ibrahim Tanko, President of the Dagbon Youth Association (DYA), has stated that President John Dramani Mahama must be wary of people he described as 'political prostitutes.
Such people, he claimed, are sycophants who would do anything to attract the President's attention, insisting that he must be cautious with such elements in his government.
It would be recalled that renowned broadcaster and staunch campaigner of President John Dramani Mahama in the 2012 elections, Gilbert Abeiku Santana Aggrey, recently launched a blistering attack on the Mahama-led administration.
He took a swipe at the President's kitchen cabinet, describing them as 'vampires, hypocrites and parasites.'
In the opinion of Abeiku Santana, host of 'Ekwanso Dwodwoo' on Okay FM, an Accra-based radio station, the 'vampires' were responsible for the NDC government's lack of focus that had led to high cost of living and the apparent confusion in government.
Tanko Rashid-Computer, the party's Northern Regional Director of Elections and Regional Treasurer recently express displeasure with persons who were manipulating the President to the detriment of the party.
The NDC stalwart, who refused to give further details last week, stated that the characters around President Mahama would spell doom for the NDC if care is not taken.
He said they were only interested in promoting their parochial interests rather than developing the party, adding that if their actions are not immediately checked, there could be agitation by the foot-soldiers.
According to the miffed regional treasurer, the people are saboteurs of the NDC, who are bent on using their association with the Presidency to promote their interests.
He called on the President to be mindful of the activities of the  deceitful characters.
But the DYA President urged President Mahama not look beyond Rashid-Computer if he (the President) is looking for greedy people.
'I want to call on the president to be careful with characters like Computer. I disagree completely with what he said; the President must rather do away with him because he has nothing to offer to the party.'
'Computer is the number one greedy bastard so far as the NDC in the Northern region is concerned. I am surprised he is saying nobody is listening to the foot soldiers'.
Mr. Tanko further alleged that 'he should come out and explain the whereabouts of the money given to him to pay the polling agents in the Northern region in the last elections. He should come and tell us what work he does for him to build a house in Tamale…The foot-soldiers are aware of his dealings, nobody will be fooled by his comments.'
He also accused Tanko Rashid-Computer of engaging in tribal politics in the region.
'He only welcomes people from his tribe. I want to tell the youth in the region not allow politics or chieftancy issues to divide them,' he noted.
BY Jeffrey De-Graft Johnson