Work On Tetteh Quashie Interchange Stops, As ...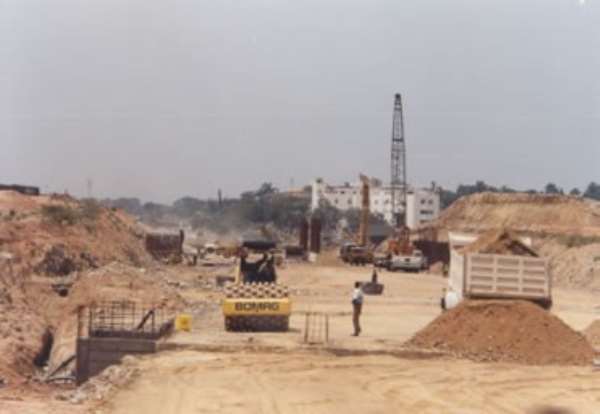 ...SONITRA Workers Embark On Protest Work on the Tetteh Quarshie Interchange has come to a halt following a strike action by construction workers of SONITRA, an Israeli construction company, which is executing the project. The strike is in protest of what they termed the unwarranted dismissal of union executives.
Their action is expected to affect work at the other construction sites, as other workers such as those from Tema, joined in the action to show solidarity with their fellow workers. The project being worked on by Sonitra include the Anyinam/Kumasi, Apedwa, Odaw, Sekondi/Takoradi and Mallam/Kasoa road projects. It is highly feared that the delays in the project would compound the traffic situation at the roundabout.
All the equipment at the site had been abandoned while the workers had also commandeered some of the company's trucks to move around the work site. Bearing placards some of which read "government, wake up" "we are being cheated" , the aggrieved workers chanting "No union, no work", drove to the headquarters of the company, where they waited for their union executives to present their petition.
When they got to the President's private residence, en route to their destination, the securitymen attempted to stop them but the workers would not burge as they rather beat their drums harder and sang louder. At the headquarters of the company, the workers, including the sacked union executives, joined their colleagues amidst drumming and dancing.
After several hours of singing and dancing a few members of the union executive were invited to present their petition. It was presented by the Union Chairman, Mr Asare Hayford, and received by the Administrator of the company, Mr Samuel Ophir. Mr Ophir refused to talk to the press when he was asked to react to the allegations levelled against the management of the company and rather, ordered the police to drive the union executives and the journalists out of the premises.
The more the press insisted on talking to him, the more Mr Ophir raised his voice asking the policemen to ensure that the pressmen were locked out of the yard.
Mr Hayford who earlier spoke to the press, said apart from the low salaries they received, they were not given proper medical attention.He said the workers had not been supplied with nose masks to protect them from the heavy dust that is generated as a result of the construction works and this made them fall sick most of the time.
Mr Hayford said the workers were aware of the urgency and the importance the government attached to the project but would not allow themselves to be cheated and treated like second class citizens, in their own country. He appealed to the Trades Union Congress (TUC) to intervene on their behalf for an amicable settlement before they resumed work.