A week after Bianca Ojukwu threatened a lawsuit over an 'intimate relationship' comment about her, Nigeria's former Aviation Minister, Femi Fani-Kayode, has withdrawn the controversial comment.
In a statement through his lawyer, Rotimi Akinola, on Thursday, Mr. Fani-Kayode accepted that he erred by making the comment but said it was 'bizarre, absurd and inexplicable' that the wife of the late Biafran warlord, Chukwuemeka Odumegwu-Ojukwu, claimed they were never acquainted.
'As our client said earlier through his press secretary some of the words he used to describe his friendship with Ambassador Ojukwu in his article titled 'A Word For Those Who Call Me A Tribalist' were indiscreet,' Mr. Fani-Kayode's lawyer said in the statement.
'He hereby withdraws those words,' he added.
News of Mr. Fani-Kayode's withdrawal of the comments came just as PREMIUM TIMES learnt that several concerned highly placed Nigerians were reaching out to both Mr. Fani-Kayode and Mrs. Ojukwu with a view to amicably resolving the differences between them.
One of those who initiated the peace moves but pleaded not to be named said both parties were cooperating with the efforts at reconciling them.
He said the statement by Mr. Fani-Kayode's lawyer was part of the measures suggested by the mediators.
A few weeks ago, Mr. Fani-Kayode had written the article where he sought to allay the outrage caused by an earlier controversial piece titled 'The Bitter Truth About the Igbos.'
In the article, Mr. Fani-Kayode had disclosed that he had had a 'long standing and intimate relationship' with Mrs. Ojukwu, former beauty queen and daughter of a state governor in the Second Republic.
The claim angered Mrs. Ojukwu, Nigeria's Ambassador to Spain, who directed her lawyers to request Mr. Fani-Kayode to retract his statement.
In his statement on Thursday, Mr. Fani-Kayode, who was also a Minister of Culture and Tourism, insisted that he knew Mrs. Ojukwu in the early to mid-80′s when he was a student at London University and Cambridge University respectively.
'They were good friends at the time and they had a few mutual friends who are still alive today,' Mr. Fani-Kayode said through his lawyer.
'The bizarre, absurd and inexplicable assertion that they were not friends and that Ambassador Ojukwu has never met our client is patently false.
'Though he has not seen her for over 25 years he spoke to her on the phone when her husband passed on last year,' he added.
Last week, Mrs. Ojukwu's lawyers, Wall Street Attorneys, in an advertorial in a national newspaper threatened to commence a legal action against the controversial ex-minister if he fails to retract his comments.
The lawyers stated that their client was 'outraged' and 'embarrassed' by Mr. Fani-Kayode's claims.
'In the circumstances, we demand, on the instruction of our client that you submit to her (Mrs. Ojukwu) a clear and unquantified apology and retraction published in The Sun and Thisday newspapers in addition to having the retraction published online,' the lawyers had said.
'Take note that should you fail to tender the apology and publish a retraction of your false and malicious publication, seven days after your receipt of this demand notice, our further instructions are to seek appropriate redress in court. And that shall be without further recourse to you. Be properly guided,' they had added.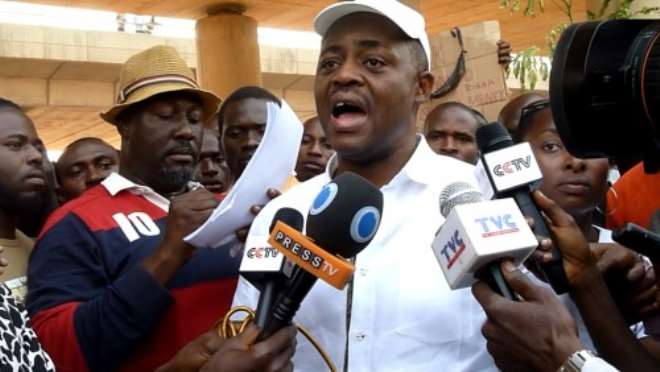 FEMI FANI-KAYODE