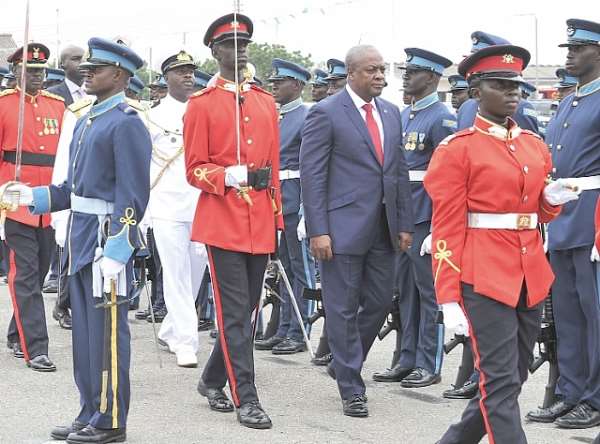 The Ghana Air Force has been contracted by the United Nations (UN) to provide air services to the UN-led Mission in Mali, President John Dramani Mahama has announced.
He said Ghana was in talks with the world body to convert the 120 Ghanaian military engineers in Mali into a full UN Battalion.
The 120 engineers are engaged only in logistical arrangements, which include the construction of roads and bridges and other engineering components of the operation.
Addressing the graduation ceremony of the Military Academy and Training School (MATS) at Teshie in Accra yesterday, President Mahama affirmed the government's commitment to equip the GAF and the other security officers, saying that the focus now was the improvement of the infrastructure of the security agencies.
In all, 82 officer cadets graduated in the regular career course 53 and special medical intake course.
The cadets held a splendid parade which was attended by President Mahama; the Defence Minister, Mr Mark Woyongo; Chief of the Defence Staff, Vice Admiral Mathew Quashie; the Inspector General of Police, Mr Mohammed Alhassan, and other military chiefs.
President Mahama said the GAF had earned an enviable image in peacekeeping.
He, therefore, asked the commissioned officers to maintain the standards set by the GAF when they got the chance to serve in peacekeeping operations.
Focusing on security and development, President Mahama urged security officers to maintain the prevailing peace for the country to continue with its development agenda.
He said it was crucial for security officers to maintain law and order and continue to protect Ghana's territorial integrity, since the nation's development hinged on peace and security.
President Mahama underlined that peace was required for the socio-economic development of every society.
Therefore, he said, it was significant for the security officers ''to protect the peace to enable the country to continue its developmental agenda''.
President Mahama congratulated the officers on their decision to train and serve in the defence of Ghana, saying, ''Ghana is proud of you.''
He cautioned the officers not to be overwhelmed by the euphoria of their graduation, and asked them to discharge their duties ''professionally and diligently without fear or favour''.
President Mahama presented awards to officers who distinguished themselves during the training course.
The Chief of the Air Staff Award went to Oppong Samuel Gyan; the Chief of the Naval Staff Award was given to Yelbour Kwame, while the Chief of the Army Staff award and the Sword of Honour went to Darko Anthony Raphael.
In a message, the Commandant of MATS, Rear Admiral E.A. Bonsu, reminded the commissioned officers that they were adequately equipped to contribute their quota to the sustenance of peace, security and stability required for the socio-economic development of the country.
''As commissioned officers, you should be mindful of our mandate to uphold the Constitution of Ghana and defend our motherland by land, air and sea,'' he said.
By Musah Yahaya Jafaru/Daily Graphic/Ghana