Policeman arrested for car-snatching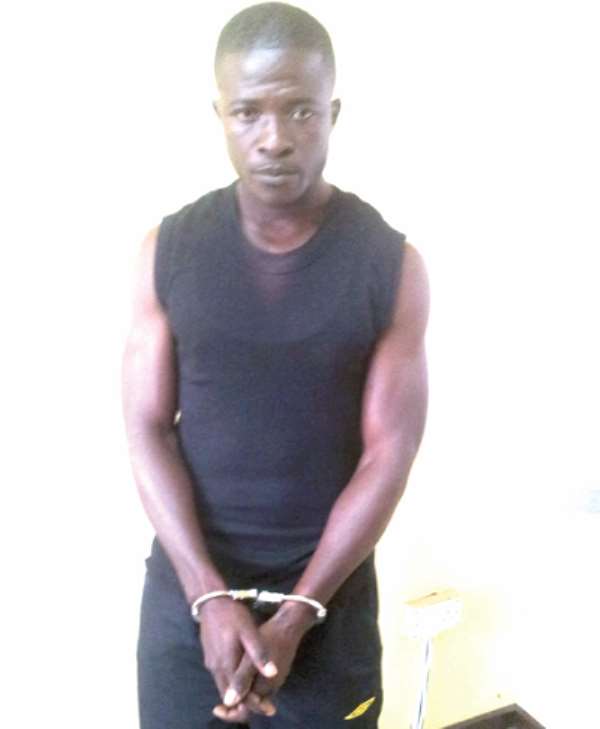 A policeman who allegedly snatched a Nissan pick-up from some Chinese at the Tetteh Quarshie Interchange in Accra has been arrested.
The suspect, Benjamin Tekutey, 28, was apprehended at his duty post at the Kakito Police Station in Tema on August 13, this year, after he had abandoned the vehicle at the Osu Post Office and left his mobile phone in it.
According to the police, Tekutey, with the help of a civilian accomplice, Patrick Kobby, who is on the run, accosted the Chinese with an AK47 rifle and bolted with the vehicle, two mobile phones and GH¢500.
Briefing journalists in Accra yesterday, the Commissioner of Police in charge of the Criminal Investigations Department, Mr Prosper K. Agblor, said Tekutey and Kobby were dressed in police uniforms when they attacked their victims.
On August, 4, this year, Mr Agblor said, the three Chinese were in their pick-up, with registration number CD 2665 X, from the Spintex Road towards the Chinese Embassy at the Airport Residential Area.
He said upon reaching the Tetteh Quarshie Interchange about 10 p.m., the Chinese were stopped by Tekutey and Kobby, who demanded that the Chinese surrender the vehicle and the valuable items on them.
For fear of being hurt, since the two suspects were holding weapons, Mr Agblor said, the Chinese left the vehicle and bolted.
He said Tekutey and Kobby, after they had taken the money and two mobile phones in the vehicle, left it at a parking space at the Osu Post Office.
In his haste to avoid being seen, Mr Agblor said, Tekutey left his personal mobile phone in the vehicle.
The victims subsequently lodged a complaint at the CID Headquarters and the police commenced investigations.
After the car had been parked for a while without anybody going for it, Mr Agblor said the police were hinted.
He said investigations conducted revealed that the phone left in the car belonged to Tekutey, who had then returned to his station in Tema.
He was subsequently arrested and, after interrogation, Mr Agblor said Tekutey admitted to the offence and mentioned Kobby as his accomplice.
By Dominic Moses Awiah/Daily Graphic/Ghana