Nkoranza Chiefs Caution Mahama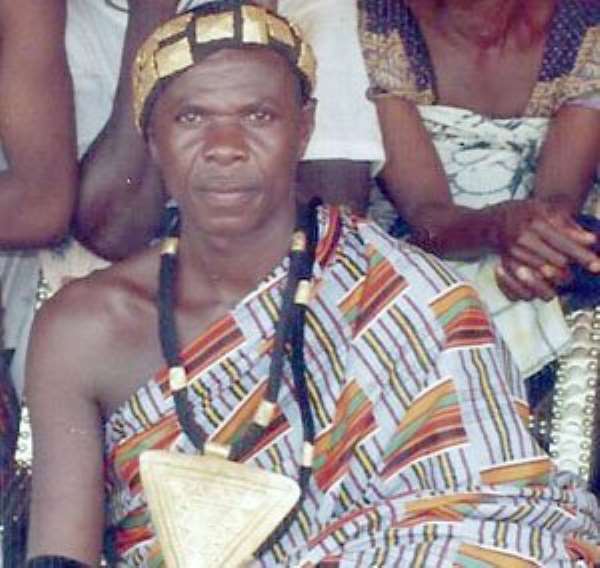 Nana Okofo Gyabaah
They have vowed to hit the streets on daily basis to express their anger.
To this end, the youth of the area have been meeting at secret locations to plan the demonstration.
Some citizens of the Nkoranza North District, who reside in other parts of the country, are gradually moving to the district to take part in the upcoming demonstration.
Led by Nana Okofo Gyabaah, the chief of Busunya, the chiefs said the DCE had amassed wealth within a short period.
In the run-up to the 2012 general elections, the chiefs of Nkoranza North held a press conference and appealed to the President to remove the DCE from office, accusing him of being corrupt, incompetent and arrogant.
At the press conference, they also threatened to campaign against the DCE who vied for the parliamentary seat for the second time.
After the President failed to remove the DCE from office, the people of Nkoranza North voted massively for President Mahama and voted against Mr. Dwomo.
Speaking to DAILY GUIDE in an exclusive interview, Nana Gyabaah said since Lordina Mahama hails from the district they would not like to do anything untoward which would incur the displeasure of the President because as he put it, 'The president is our in-law.'
He said some people had misinformed the President about the appointment of MMDCEs.
Nana Gyabaah appealed to the President to send people from Accra to investigate allegations levelled against Mr. Dwomo to ascertain the truth.
Apart from being disrespectful to the chiefs of the area, he is also arrogant and treats people with contempt, they alleged.
Alhaji Alhassan, a staunch NDC member told DAILY GUIDE that 'if the President still thinks Kwadwo Dwomo is his preferred choice, he (the president) will have the shock of his life since the assembly members will surely vote massively against him.
He advised President Mahama to quickly revoke his nomination in order to avoid a chaotic situation and wanton destruction of property in the district like what happened at Nkwanta North.
The party has come so far but sadly those at the helm of affairs are killing the spirit and light that form the backbone of the party, he said.
Meanwhile, Mr. Dwomo held secret meetings with assembly members which saw
14 out of the 37 members of the house, attending.
DAILY GUIDE gathered that the NDC constituency executives threatened to reject the nomination of Mr Dwomo.
 FROM Eric Bawah, Busunya