Eating To Live: Debate On Growing GM Crops Rife In Ghana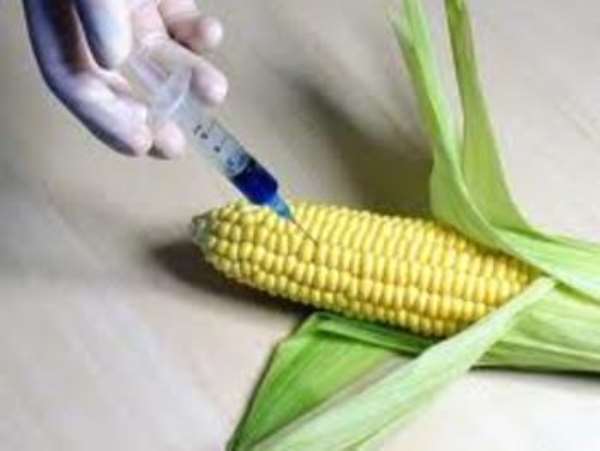 Posted on Wednesday 7 August 2013 - 12:50
Kofi Adu Domfeh, AfricaNews Reporter in Accra, Ghana
The first-ever genetically modified (GM) crop to be planted in Ghana is the Nitrogen Use Efficient (NUE) rice.
genetically modified (GM) crop
The Crops Research Institute (CRI) of the Council for Scientific and Industrial Research (CSIR) is presently conducting the field trails in the Ashanti region.
Other crops like sweet potato, cotton and cowpea have also been approved to undergo confined field trials.
There are no commercial GM crops grown in the country presently, though advocates of GM technologies believe adoption has significant benefits for farmers, consumers and the environment.
Director-General of CSIR, Dr. Abdulai Salifu, is one of those who support the full deployment of biotechnology in Ghana. For him, biotech in agriculture will ensure access to appropriate improved crop varieties in production to achieve food security.
'I prefer to eat a product that is going to kill me in 30 years times [and I'm not even sure it will kill me], than to stay hungry and die today', he told a group of journalists, alluding to starvation faced by populations in Africa.
The wellbeing of human societies largely depends on the food consumed by its population, hence the subject of GMOs - to grow or not to grow; to eat or not to eat - continues to engage the interest to people the world over, Ghana not an exception.
Biotechnology in agriculture involves the use of scientific methods to produce genetically modified food crops that are more pest, disease and drought resistant and with short maturity periods.
The Biosafety Law in Ghana was passed in 2011, to allow the application of biotechnology in food crop production involving GM Organisms (GMOs) to enter food production.
The law also ensures an adequate level of production in the field for safe development, transfer, handling and use of GMOs.
However skepticism is still rife in the adoption of GMOs in Ghana.
Food Sovereignty Ghana, an advocacy movement, has called on the Ghanaian government to urgently place a moratorium on the cultivation and consumption of GM foods.
Chairperson of the organization, Ali Masmadi Jehu-Appiah, argues that 'GMO's have not contributed to major yield increases, nor drought resistance, and has generated superweeds and superbugs that require increased use of even more dangerous herbicides and pesticides'.
The group has therefore called for a broad consensus regarding the negative effects of consuming genetically modified foods before allowing Ghanaians to patronize them.
But Dr. Claude Fauquet, Director of the Global Cassava Partnership for the 21st Century (GCP21), is of the view that Ghana is over two decades late in growing GM foods.
'Cumulatively, two billion people in the world have eaten GMO food and there is not a single report of a single person being sick - having a disease or cancer or anything - coming from GMO', he said.
Modern biotechnology is a safe scientific method with enormous benefits to improve agriculture yields, stated Professor Richard Akromah, Dean of the Faculty of Agriculture at the Kwame Nkrumah University of Science and Technology (KNUST).
He however says biotechnology use in Ghana must be approached with precautionary measures.
'We must do in-country testing under confined field trials to avoid escape and take data by our scientists for analysis to convince ourselves that it is safe and appropriate to deploy it in our agriculture', cautioned Prof. Akromah who is also a Senior Lecturer in Plant Breeding and Genetics.
His concerns have been addressed by a member of the Ghana National Bio-safety Committee, Professor Walter Alhassan, who says there are adequate and thorough safety measures in the country to manage environmental and health risks associated with biotechnology.
Already, the Open Forum on Agricultural Biotechnology (OFAB) in Ghana has been engaging stakeholders, especially farmers, consumers, students, researchers and journalists to discuss issues related to modern agriculture.
Dr. Margaret Ottah Atikpo, Focal Person of OFAB-Ghana Chapter, says stakeholders should be aware of the developments surrounding the vital technology to be well informed.
'Modern Biotechnology is relatively recent scientific innovation that requires deliberate and sustained communication efforts to create awareness and understanding to consumers, legislators and policy makers', she said.
For now, accessing GM seeds for agricultural production is a choice farmers would have to make when Ghana goes commercial in production, whilst Ghanaian consumers also make similar choice to purchase and consume GM foods.
For Life, the Environment, and Social Justice!
Social Media Outreach
Pan-Africanist International - a grammar of Pan-Africanism and its manners of articulation.
Website: http://www.panafricanistinternational.org/
Twitter: https://twitter.com/#!/PanAfricanists
Facebook: http://www.facebook.com/pages/Pan-Africanist-International/