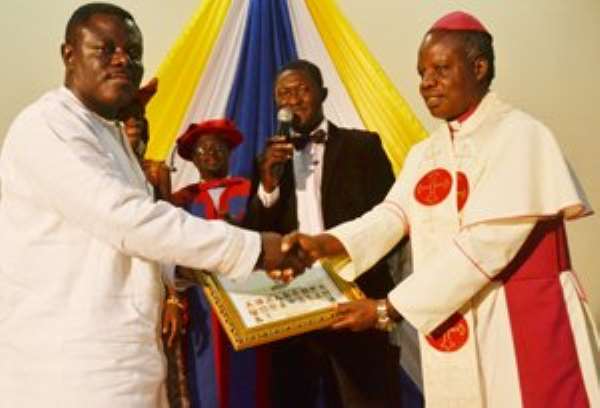 Dr Kwame Kyei (left) receive the award
DR. KWAME Kyei, CEO of Unity Group of Companies, has been recognised for his role in the promotion of peace in Ghana.
Dr Kyei has been at the forefront of promoting peace through organising peaceful all-night vigils since 2004 to serve as vanguard for the peace initiative across the country.
A yearly event that attracts over 40,000 participants, the vigils have been able to mobilise ministers of God from all walks of life to campaign for peace during and after every parliamentary and presidential election in Ghana since 2004.
At a well-attended programme at the University of Cape Coast in the Central Region dubbed 'Ghana Thank You' awards last weekend, Dr Kyei was honoured alongside other well-meaning personalities including Kofi Annan, former United Nations Secretary-General.
http://www.dailyguideghana.com/wp-content/uploads/2013/08/mr_kwame_kyei_2.jpg
Dr Kwame Kyei being welcomed to the programme
He welcomed the award bestowed on him, saying that he least expected it.
'Even though I wasn't expecting anything of that sort, I welcome it because it is an honour from God,' he stated.
Commenting to DAILY GUIDE, the business mogul said his peace crusade had nothing to do with politics, adding that his mission and goal was to ensure peace across the country before, during and after elections.
Dr. Kyei, therefore, urged Ghanaians, especially the youth, not to allow themselves to be used as conduits to thwart the peace prevailing in Ghana when the Supreme Court announces the verdict on the 2012 Election Petition.
He commended the panel of justices sitting on the election petition at the Supreme Court for a good work done so far.
'I think the justices are doing fairly well since they have been able to handle the case with a good heart. They need to be respected and we anticipate a fair judgment in the end. We all need to pray for them because it is not an easy task,' he said.
He also advised the general public to remain calm and respect the rule of law.
Other personalities awarded at the event included Yaw Kummey, Osagyefo Kwamina Enimill V, Omanhene of Wassa Fiase Traditional Area, Busummuru Kofi Annan, President John Dramani Mahama, former Presidents Jerry John Rawlings, and John Agyekum Kufuor.
The 'Ghana Thanks You' awards, held at the UCC campus, was under the auspices of Osabarima Kwesi Attah II, Omanhene of Oguaa.
In all, 12 people, whose efforts were recognised as having helped to build peace in Ghana, were honoured as Peace ICONS.
In an address, President Mahama commended the organisers, Global Trade Network and Confederation of Governance Assessment Institute (COGAI) for organising the event.