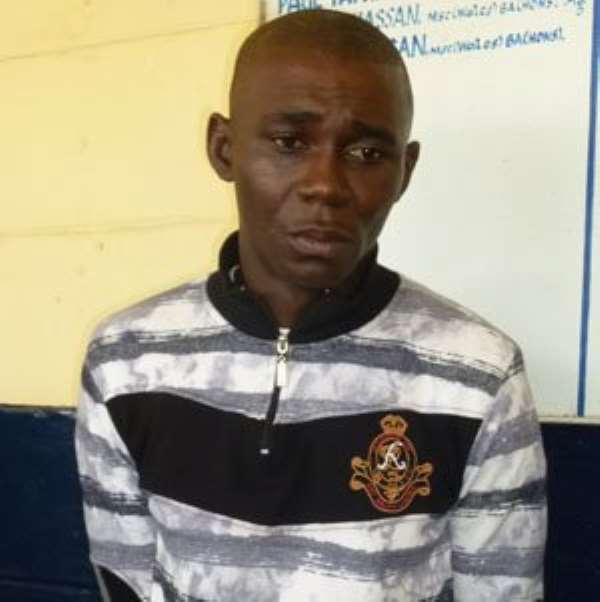 Gabriel Newsman
A notorious armed robber who has been on Police wanted list for allegedly robbing two banks in Accra and Tema has been captured by the Accra Regional Police Command.
The suspected armed robber, Gabriel Newman alias Angel or Coach, fled to Libya in 2012 when he realized he was wanted by the Police to help with investigations concerning the robberies.
The Commander of the Accra Regional Police told journalists in his office yesterday that the 25-year-old suspected robber after staying out of the country for over a year 'came back this year thinking that the dust has settled, but luck eluded him and he is now in the firm grip of the police.'
According to DCOP Christian Tetteh Yohuno, one of the robbery incidents took place on July 21, 2011, at the Accra Shopping Mall Ecobank branch where huge sums of money in foreign and local currencies were stolen by an unknown gang.
After the incident was reported to the police, DCOP Yohuno said investigations commenced to arrest the perpetrators and bring them to book.
'During police investigations names like Gabriel Newman alias Angel or Coach, Rabiu alias Baba Hasan and Sam Peters, a Nigerian came up as prime suspects who might have carried out that robbery at the shopping mall on that fateful day,' he said.
The Accra commander also indicated police investigations established that the suspect also participated in a robbery operation by a gang of armed robbers at the Tema United Bank for Africa (UBA) as well as another robbery in a building material company known as Antis Limited located at Haatso Agbogba, a suburb of Accra.
During the Tema UBA robbery, DCOP Yohuno related that a police officer lost his life as a result of gunshot exchanges between the police and the robbers.
The police, he said, arrested some security men who were implicated in the robbery and they were put before court while investigations continued in search of the other accomplices.
While investigations were still ongoing, Rabiu alias Baba Hasan and Sam Petters who were wanted by the police on Febuary 24, 2012 went on another robbery expedition at Madina in the Greater Accra Region.
DCOP Yohuno said 'they encountered the Police in a shoot out, however, they lost their lives in the process,' but police intensified their investigations to arrest other accomplices in that robbery case.
He stated that since the police now have Gabriel Newman in their grip, he would be processed before court in the course of the week.
 By Emelia Ennin Abbey