Ghana's Irrigation Potential Remains Untapped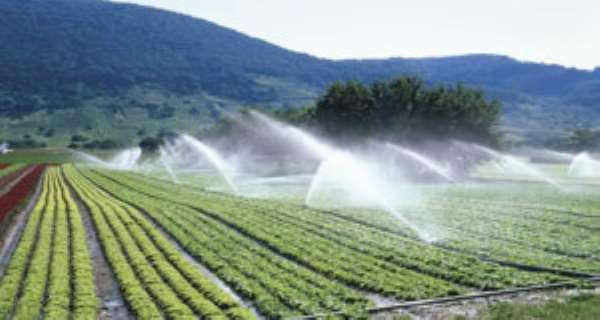 Only five per cent of the nation's 1.9 million hectares of irrigation potential has been developed, Dr Ben Vas Nyamadi, the Chief Executive Officer of the Ghana Irrigation Development Authority (GIDA), has said.
GIDA is managing 56 public schemes representing about 20 per cent while the private schemes are handling 80 per cent.
Dr Nyamadi, who was speaking at the opening of a one week refresher training being organized for GIDA technical staff in Tamale, said the Authority was undergoing a restructuring process aimed at partnering with the private sector to harness these potentials.
The Northern Rural Growth Programme (NRGP) organized the training with funding from the African Development Bank (AfDB) and the International Fund for Agricultural Development (IFAD).
He said the new direction of the Authority would focus on management of rain water where new technology of storing and draining could be used by farmers.
'In the north for instance, lowland rice farmers have a difficulty of harvesting rice during the raining season, which leads to loses. We want to explore rain water management technology whereby they can drain water on their fields, store and then harvest,' he said.
He said when the restructuring was completed the management of the existing public schemes would be outsourced to the private sector to operate while the GIDA personnel would only offer technical services.
Dr Nyamadi said the country could benefit from the irrigation schemes, if funds were made available for rehabilitation works, adding that farmers would be able to cultivate cereals and vegetables in abundance.
Mr Roy Ayariga, Chief Executive Officer of the NRGP, said building of many irrigation facilities was one of the key solutions to addressing effects of climate change as well as ensuring food security in the country.
He said the rainfall pattern in the country especially in the three northern regions had changed but the volume of rain water remained the same and called for building more schemes to store water to be used during the lean season.
'The excessive rain water, which come as floods to displace people and destroy properties can be turned to a fortune by harvesting it to be used later,' he said.
Mr. Ayariga said with support from AfDB, IFAD and the government, about 21schemes would be completed to enable small holder farmers to cultivate crops all year round.
He said NRGP had started an initiative in the White and Black Volta Rivers' catchment areas called pump irrigation, which supplies farmers in the vicinity with water.
Mr Ayariga said as part of the NRGP's quest to contribute to food security in the country, roads leading to communities that produce cereals and vegetables are being built to reduce post harvest losses to ensure that quality food is sold to consumers at the right time.
'Through co-financing we are also building pack and warehouse to support farmers in the savannah belt,' he said. Source: GNA