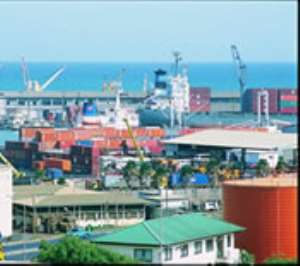 'Industrial area' suggests that the locality is planned and well structured for the purpose of industrial activities and development. For this reason, areas designated as 'industrial areas' are usually distanced from residential communities taking into consideration their environmental and social impact.
Tema heavy industrial area which is recognised as the industrial hub of Ghana is rapidly losing its 'industrial' attractiveness. Authorities are not unaware of the situation but as usual and typical of Ghanaians, will wait till the situation gets worse before they will begin to look for solution.
Squatters are taking over the place on daily basis. Currently, there are over 100 unauthorised structures spread around the industrial area. Most of them are located right in front of Ernest Chemists and scattered along that area.
On the road to the Driver and Vehicle Licensing Authority (DVLA) office in Tema, just before Reroy Cables Limited, there's another set of slums along that route.
When workers close and are heading home, you now see these 'illegal residents' also retiring to their base, that's their slums. Early in the morning, you see them cooking and doing the usual residential activities very comfortably.
The fast pace at which slums are being put up in the area is very worrying. Authorities in charge of the Tema heavy industrial area are waiting for this to become a national concern before they will raise alarm to take action. By then, as usual of us, the country will now begin to look at how to relocate those people and seek for funds for demolition and resettlement exercise.
Should there be a fire outbreak in these squatter settlements, one can tell what could befall the industries situated closer. Recent market fire outbreaks have become a national concern to the extent that government has now sought for expertise assistance to forestall such.
Need we wait for the industries at the Tema heavy industrial area to be outgrown by the slums before authorities take a critical look at the situation and possibly begin to look out for experts to advice on that?
Other illegal activities associated with squatter settlement will begin to pose threat to the industries and deter others from locating within that area.
Apart from the growing slum situation is the deteriorating road network. Good road network is a major boost for industrial growth and creates easy access for suppliers and distributors.
The road that leads to the DVLA office at the heavy industrial area be it from the Aflao link or the Tema main road is very terrible.
There are 'man-holes' scattered over the roads. They cannot be described as 'pot-holes' because they are larger and vehicles are trapped in them on daily basis when it rains. The road in front of Tropical Cable and Conductors Limited also becomes impassable during the rainy season. This certainly affects businesses located in those areas.
It is my hope that this situation does not reach the level where it has to take the personal intervention of the president to seek for solution to these obvious concerns of industries operating within the Tema heavy industrial area.
Do we have business conscious leaders at Tema Metropolitan Assembly (TMA) and Tema Development Council (TDC)? I believe if we have, they will realise the far reaching implications of these worrying development in the area and would have taken proactive measures, especially with respect to the squatter development.