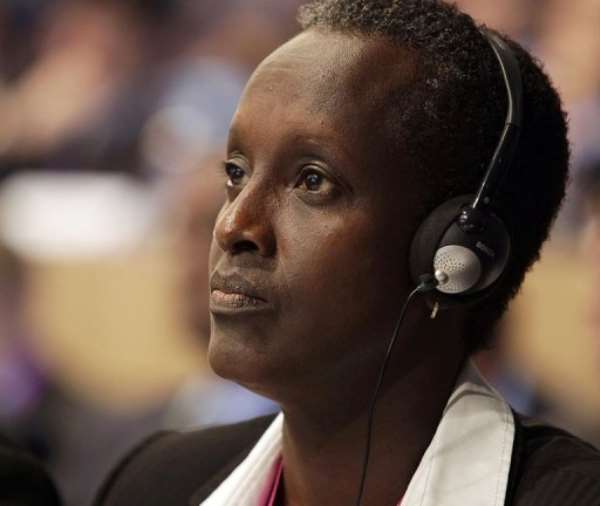 Burundi Football Association chief Lydia Nsekera attends the 62nd FIFA Congress in Budapest, on may 25, 2012. By Peter Kohalmi (AFP/File)
PORT LOUIS, Mauritius (AFP) - Burundi's Lydia Nsekera made history on Friday when she became the first woman to be elected to the Executive Committee of football's world governing body FIFA for a full term.
Nsekera was voted on for a full four-year term at the FIFA Congress in Mauritius, while two other women, Moya Dodd of Australia and Sonia Bien-Aime of the Turks and Caicos Islands, were coopted on for one year.
Nsekera was the first woman to be coopted on for one year at last year's Congress in Budapest.
Now there will be three women on the ExCo, compared to none two years ago. It is another step towards gender equality within FIFA, although there is still work to be done, with the ExCo comprising a total of 24 members.
"One woman was co-opted on to the Executive Committee last year for one year, and now a woman has been officially elected on to the executive committee, with two others co-opted. It has taken us 109 years to get this far," said FIFA president Sepp Blatter.
In addition, and as expected, a proposal to change the process by which future World Cups are attributed was voted through by an overwhelming majority.
Previously, only the 24 members of the Executive Committee were allowed to vote for successful World Cup hosting, but now a collective vote will be taken by all 209 federations.
Out of 207 votes, 198 voted in favour of the change, with just two voting against.
The previous system came under fire after the awarding of the 2018 and 2022 finals to Russia and Qatar respectively.
Meanwhile, FIFA's decision to postpone introducing limits on the age and length of term for presidential candidates until at least 2014 has come in for criticism from Mark Pieth, the man hired by FIFA as their chief reformer.
"These are not the most fundamental reforms, but this does risk sending out a symbolic message," said Pieth, an independent Swiss lawyer.
In January, UEFA proposed a an age limit of 72 for officials standing for election and a maximum of three four-year mandates.
Current FIFA president Sepp Blatter, 77, has already surpassed both those limits.