Togo police kill 12-year-old boy during crackdown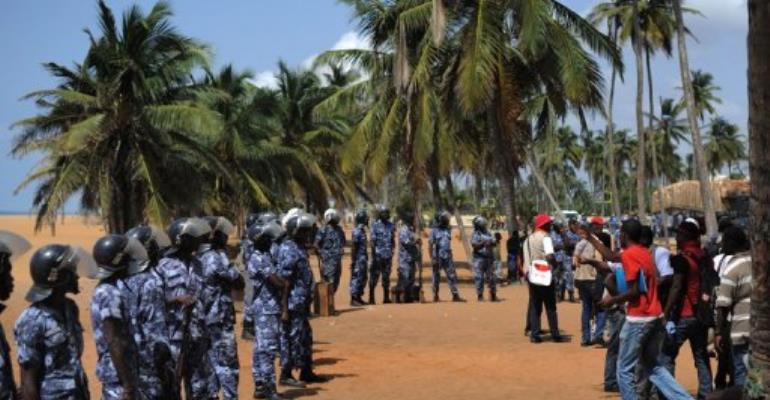 LOME (AFP) - A 12-year-old boy in Togo was killed on Monday by a policeman who fired in warning to disperse a protest demanding the country's schools re-open, an official said.
The west African nation's government had temporarily shut all primary and secondary schools following student protests last week that saw property destroyed, according to a government statement.
"A pupil... was killed by a bullet when police fired warning shots" to stop students ransacking local government buildings in the northern town of Dapaong, Security Minister Colonel Damehane Yark told AFP.
In a separate incident also in the north, Water Minister Bissoune Nabagou was injured during a confrontation with students, Yark said, without specifying where the incident occurred.
The protesters had taken to the streets to support their teachers, who last week staged a three-day strike demanding a 100 percent pay rise. Public health workers also went on strike with similar demands.
Last Thursday and Friday, thousands of students turned out on the streets of the capital Lome and urged the government to meet their teachers' demands.
They caused "considerable damage to public and private property," a statement read on national radio said, adding that the students had sought to widen the demonstrations.
There were no reported incidents in Lome on Monday, although groups of student did appear on the streets to voice opposition against the school closures.
The government has not yet given an indication as to when schools would re-open.
Togo has seen waves of protests in recent months, including those led by an opposition and civil society coalition, Let's Save Togo, demanding sweeping political reforms and the resignation of President Faure Gnassingbe.
The security forces have clashed with Let's Save Togo supporters, and have repeatedly used tear gas to disperse the rallies.
Dozens of people have been injured and arrested, but most were released within days of their initial detention.
The demonstrations have largely been concentrated in Lome, where the security forces have not been widely known to fire live rounds.
The government imposed a temporary ban on demonstrations in Lome amid the unrest.
Togo has been ruled by the same family for the last four decades.
The president was installed by the military in 2005 after the death of his father Gnassingbe Eyadema who ruled for 38 years with an iron fist.
He has since won elections in 2005 and 2010, though the opposition disputes these victories.
Legislative polls, initially scheduled for last October, have been repeatedly pushed back and a polling day has not yet been announced.