Angry Tamale Youth & Their Chief Threaten To Lynch Homosexuals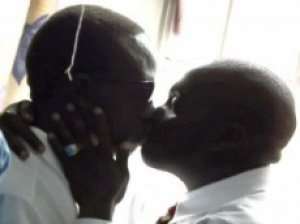 The youth of Tamale are threatening to lynch persons they suspect to be homosexuals who they say are using the locality as a safe haven to practice immorality.
According to them, their culture and religion are against such sexual preferences and they will go as far as assaulting people if that is what it would take to rid the community of homosexuals and lesbians.
Some of the youth who spoke to Joy News' Hashmeen Mohammed said they will begin a house to house cleansing to fish out all homosexuals from their hideouts in the area.
"We the youth in Tamale are against lesbians and gays. Our religion and culture is against it, we are going to fight it to ensure that it does not gain grounds in Tamale".
They pleaded with the authorities to step in to ensure the Northern regional capital is free from the activities of such "immoral" people.
Meanwhile, the chief of Tamale, Dakpema Naa Mahamadu Dawuni who said his palace has received several reports on the matter, warned that he will support any move by the youth to 'cleanse the community' even if that will include lynching anyone suspected to be a homosexual or lesbian.
Abass Salifu, spokesperson for the Tamale chief stated: "When the Dakpema heard that some people are practicing it (homosexuality) where his jurisdiction covers, he mobilized his sub chiefs and told them to fight it…"
The chief, according to his spokesperson, will not allow gays and lesbians thrive in Tamale.
"They will not operate even if it gets to the point of lynching them, he (Tamale chief) is going to support it" Abass added.